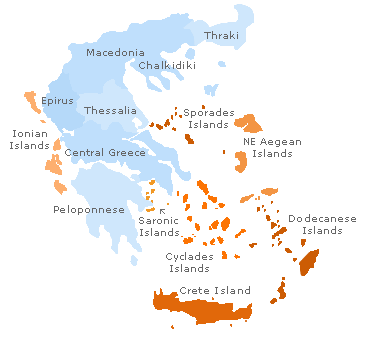 Greece and the Greek Islands is the favorite destination for vacation holidays in Europe.
Greece is like no other place in the world, a combination of ancient and modern features, a country which unites traditional and contemporary characteristics, fulfilling your every desire.
Greece has always been one of the most popular tourist destinations in the world, catering to all types of visitor; the sightseer, the party go-er, the island hopper or the outdoor sports lover.
Athens, Thessaloniki, Mykonos, Santorini, Crete, Paros, Corfu, Rhodes and Kefalonia are known in every corner of the world.
But Greece has countless other places that offer unforgettable holidays. Many people adore Chalkidiki, Amorgos, Andros, Zakynthos, Serifos, Naxos, Samos, Arachova and Nafplion, and return year after year.
Although Greece is famous for its islands, beaches and summer holiday resorts, it also possesses many areas that are ideal for winter vacations. Greece has become a prime business destination and many international companies and organizations choose locations such as Athens, Thessaloniki, Crete, Corfu, Rhodes, Mykonos, Santorini and Chalkidiki to host their conferences, congresses, exhibitions, symposiums and incentives.
In this site we present a wide selection of holiday accommodation, such as luxury Hotels, discount Hotels, apartments, studios, rooms for rent, traditional houses, villas, bungalows and pensions throughout Greece, more specifically in Athens and Attica, Thessaloniki and the Greek Islands, Cyclades, Dodecanese, Ionian islands, NE Aegean Islands, the Saronic Islands, the Island of Crete, Chalkidiki, The Peloponnese and Mainland Greece.
Select Destination:
Cyclades Islands
Amorgos Hotels
-
Andros Hotels
-
Antiparos Hotels
-
Donoussa Hotels
-
Ios Hotels
-
Kea Tzia Hotels
-
Koufonisia Hotels
-
Milos Hotels
-
Mykonos Hotels
-
Naxos Hotels
-
Paros Hotels
-
Santorini Hotels
-
Schinoussa Hotels
-
Serifos Hotels
-
Syros Hotels
-
Tinos Hotels
-
Ionian Islands
Corfu Hotels
-
Kefalonia Hotels
-
Lefkada Hotels
-
Meganissi Hotels
-
Zakynthos Hotels
-
Crete Island
Chania Hotels
-
Heraklion Hotels
-
Lassithi Hotels
-
Rethymnon Hotels
-
Dodecanese Islands
Leros Hotels
-
Patmos Hotels
-
Rhodes Hotels
-
Tilos Hotels
-
Saronic Islands
Aegina Hotels
-
Peloponnese
Arcadia Hotels
-
Argolis Hotels
-
Laconia Hotels
-
Messinia Hotels
-
Attica
Athens Airport Hotels
-
Athens Hotels
-
Piraeus Hotels
-
Sounion Hotels
-
Chalkidiki
Kassandra Hotels
-
Mount Athos Hotels
-
Sithonia Hotels
-
NE Aegean Islands
Lemnos Hotels
-
Samos Hotels
-