Dodecanese Islands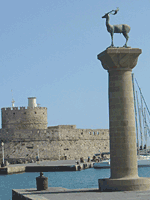 The Dodecanese Islands, Greece
The Dodecanese Islands cluster is a group of Greek Islands situated in eastern most point of the Aegean Sea. Many visitors consider the Dodecanese to be the most attractive of the Greek Islands, due to the multi cultural characteristics and aristocratic aura.
The main features of the Dodecanese Islands are stunning beaches, clean waters, Venetian and Byzantine monuments, ancient archaeological sites, areas of natural beauty, lush vegetation and a variety of nightlife venues.
On the Dodecanese Islands, visitors are provided with a wide range of areas to stay in, since they are ideal for both peaceful, carefree holidays and energetic, stimulating vacations. No matter your destination, the Dodecanese will offer you unforgettable holidays.
The Dodecanese Islands have a superb tourist infrastructure and provide guests with an abundance of hotel resorts, hotels, apartments, studios, rooms for rent, suites, villas and traditional houses.
The Dodecanese Islands are: Astypalea, Chalki, Kalymnos, Karpathos, Kassos, Kastelorizo, Kos, Leros, Lipsi, Nisyros, Patmos, Rhodes (Rhodos, Rodos), Symi and Tilos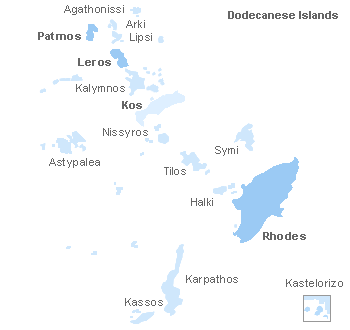 Accommodation : Rest of Dodecanese Islands
leros hotels
|
patmos hotels
|
rhodes hotels
|
tilos hotels
Accommodation : Rest of Greece
attica
|
chalkidiki
|
dodecanese islands
|
crete island
|
cyclades islands
|
ionian islands
|
ne aegean islands
|
peloponnese
|
saronic islands