Schinoussa Hotels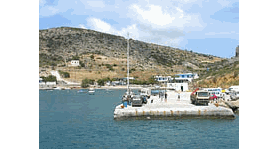 Schinoussa (Schinousa) Island, Small Cyclades (Little Cyclades), Greece
Schinoussa (Schinousa, Schoinoussa) Island is located south of Naxos Island, northeast of Ios Island and west of Koufonisia and Amorgos Islands.
Schinoussa is a marvelous vacation retreat, and popular with those who seek a paradise away from the more touristy islands that are so overcrowd in the Cyclades cluster and want to relax on beautiful beaches and in quiet environment.
In Schinoussa there are nice Hotels, Studios, Villas, Apartments and Rooms for your accommodation, as well as nice Greek fish tavernas with traditional Greek cuisine and fresh fish.
There are also several nice sandy beaches with clear crystal blue waters, which are either nearby or secluded, catering for all tastes.
Category: N/A
- Schinoussa hotels

Magic Blue Travel is a professional travel agency, which offers accommodation and travel services in various locations in Greece, such as Athens, Santorini, Mykonos, Paros, Milos, Naxos, Amorgos, Crete, Rhodes, and other islands. Travel services provided in Schinoussa (Schinousa, Schoinoussa) include tours and excursions, cruises, and much more.
Accommodation : Rest of Schinoussa Hotels
Accommodation : Rest of Cyclades Islands
amorgos hotels
|
andros hotels
|
antiparos hotels
|
donoussa hotels
|
ios hotels
|
kea tzia hotels
|
koufonisia hotels
|
milos hotels
|
mykonos hotels
|
naxos hotels
|
paros hotels
|
santorini hotels
|
schinoussa hotels
|
serifos hotels
|
syros hotels
|
tinos hotels
Accommodation : Rest of Greece
attica
|
chalkidiki
|
dodecanese islands
|
crete island
|
cyclades islands
|
ionian islands
|
ne aegean islands
|
peloponnese
|
saronic islands