Samos Hotels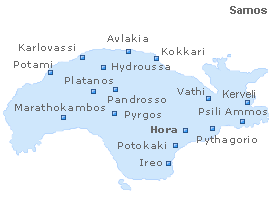 Samos Island, NE Aegean Islands, Greece
Samos Island lies in the North Eastern Aegean Sea, at close proximity to the coast of Turkey.
It is a very lush island, with many pine forests, olive tree fields and vineyards. Along the coast of Samos, visitors can find long stretches of sand and some of the most pristine waters in the Aegean Sea area.
Throughout the island there are many natural and historical sites, making it the ideal destination for sightseeing and nature lovers.
A wide range of hotels, apartments, rooms and villas for rent is offered in the seaside towns and mountain villages of Samos.
Accommodation : Rest of Samos Hotels
samos hotels kerveli hotels
Accommodation : Rest of Ne Aegean Islands
lemnos hotels
|
samos hotels
Accommodation : Rest of Greece
attica
|
chalkidiki
|
dodecanese islands
|
crete island
|
cyclades islands
|
ionian islands
|
ne aegean islands
|
peloponnese
|
saronic islands