Ionian Islands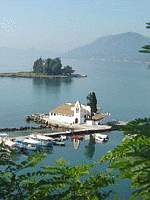 The Ionian Islands, Greece
The Ionian Islands cluster is a group of islands situated in the Ionian Sea, west of Mainland Greece. Thousands of visitors come to the Ionian Islands to enjoy their unique literary and artistic culture, natural beauty, cosmopolitan lifestyle and warm hospitality.
Some distinctive characteristics of the Ionian Islands are the rugged vegetation, lush mountainside, endless beaches, impressive natural features, neoclassical architecture, traditional mountain and seaside villages, interesting historical monuments and outstanding nightlife venues. Despite their common characteristics, each island has many things to offer its visitors that are uniquely its own.
The Ionian Islands have an excellent tourist infrastructure and provide guests with a plethora of hotel resorts, hotels, apartments, studios, rooms for rent, suites, villas and traditional houses.
Whatever your traveling company, either you are alone or with friends and family, the Ionian Islands are perfect vacation destinations that satisfy all types of visitors.
The Ionian Islands are: Corfu (Korfu, Kerkyra), Ithaki, Kefalonia (Cefalonia), Kythira, Lefkada (Lefkas), Paxi and Zakynthos (Zante).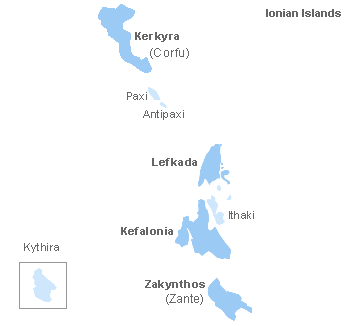 Accommodation : Rest of Ionian Islands
corfu hotels
|
kefalonia hotels
|
lefkada hotels
|
meganissi hotels
|
zakynthos hotels
Accommodation : Rest of Greece
attica
|
chalkidiki
|
dodecanese islands
|
crete island
|
cyclades islands
|
ionian islands
|
ne aegean islands
|
peloponnese
|
saronic islands