Peloponnese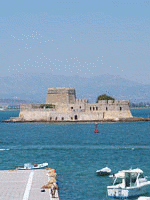 The district of the Peloponnese is considered to be one of the most representational regions of the country as far as natural beauty, archaeological findings and the Greek historical background are concerned. The particularly picturesque Peloponnese, pulsing with numerous spots of multifarious interest, is regarded as one of the most appealing districts of Greece, attracting innumerable visitors all year round.
The district of the Peloponnese, situated on the southwestern part of continental Greece, comprises of seven non identical prefectures, which are all ideal destinations for your summer or winter vacations. Argolida, Arcadia, Achaia, Elia, Corinth, Laconia and Messinia, throbbing with cosmic towns, scenic villages, archaeological sites and natural spots, shall definitely be the supreme escapade from your everyday routine.
Traversing the renowned canal of Corinth, at a distance of only one hour from Athens, the capital city, you will have the chance to reach the Peloponnese and of course visit the seven magnificent prefectures that compose the unrivaled district. By visiting each prefecture you will have the opportunity to discover and admire the different profiles of the multilateral region of the Peloponnese.
The extremely interesting archaeological sites of Argolida and Corinth, the coastal and mountainous beauty of Arcadia, the cosmopolitan and picturesque profile of Achaia, the traditional and gifted with amazing beaches Elia, the elegant and graciously carved Laconia and the natural beauty of the serene Messinia compose an irresistible amalgam of attraction that shall seduce you.
Due to the manifold character of the Peloponnese, all over the impeccable district, you will be able to find the resort that shall best suit your desires, tastes and needs. Cosmic coastal hamlets and peaceful skirmished villages are waiting to host your summer or winter holidays offering impressive sightseeing, interesting museums and archaeological sites as well as dazzling beaches and imposing mountains ideal for outdoor sports and extreme games.
As soon as you shall visit the extraordinary district of the Peloponnese and as soon as you shall visit the seven exceptional prefectures, you will be entitled to say that you have get acquainted with one of the most authentic and blessed districts that embellish the very promising country of Greece.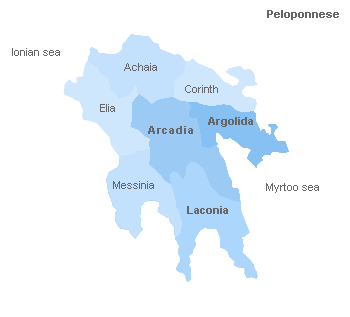 Accommodation : Rest of Peloponnese
arcadia hotels
|
argolis hotels
|
laconia hotels
|
messinia hotels
Accommodation : Rest of Greece
attica
|
chalkidiki
|
dodecanese islands
|
crete island
|
cyclades islands
|
ionian islands
|
ne aegean islands
|
peloponnese
|
saronic islands