Piraeus Hotels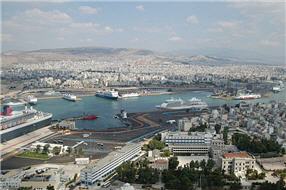 Piraeus, Attica, Greece
Piraeus City and Port is located in western Attica, pretty close (8.5 km) to Athens City, the capital of Greece.
Piraeus is the largest port in Greece and one of most significant in the Mediterranean Sea and welcomes hundreds of ships daily. From its ports, travelers depart for the Greek Islands and for other countries. Piraeus has been a major Greek city and port since the Golden Age of Athens. The city was originally built by Hippodamus. Important historical and archaeological sites are scattered in Piraeus and its surrounding areas. Since it is such an important transportation hub, it possesses a wide variety of hotels, hotel rooms and suites, as well as an abundance of nightclubs, bars, cafés, tavernas and restaurants located by the seaside.

Athens Hotel Guide offers all types and categories of hotels, apartments and suites. Find hotels in Athens city, Piraeus, Downtown Athens, Athens Coast Hotels, Luxury, Budget, Family hotels, apartments and suites.

Reliable and economy Car Rental in Athens and Athens Airport Greece. We offer a wide selection of new cars for rent, small cars, family cars, 4x4 and luxury cars for VIP clients. Free delivery and collection.
Accommodation : Rest of Piraeus Hotels
Accommodation : Rest of Attica
athens airport hotels
|
athens hotels
|
piraeus hotels
|
sounion hotels
Accommodation : Rest of Greece
attica
|
chalkidiki
|
dodecanese islands
|
crete island
|
cyclades islands
|
ionian islands
|
ne aegean islands
|
peloponnese
|
saronic islands