Kassandra Hotels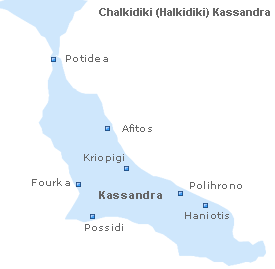 Kassandra, Chalkidiki (Halkidiki), Greece
Kassandra is the first and most cosmopolitan peninsula of Chalkidiki. It attracts thousands of tourists every year due to the fact that it has a well-developed tourist infrastructure, offering a plethora of hotels, apartments, rooms for rent and organized facilities.
Kassandra is known for having organized beaches that are situated in forested areas. It is the place for entertainment, since it is full of all types of venues such as taverns, restaurants, bars, cafes and clubs. The area also possesses some very interesting historical and religious sites that are definitely worth visiting, while a walk through the cobblestone alleyways of quaint traditional settlements, is a joy.

3 star (***) hotel rooms and suites in Possidi, Kassandra, in the region of Chalkidiki, with air-conditioning, a private bathroom, a TV, a kitchen, a direct-dial phone, internet access, and a veranda or a balcony with a sea or mountain view. The hotel has a café, a bar, a garden and a parking area. The suites and rooms are situated on Possidi Beach, which is one of the loveliest beaches in Kassandra, Chalkidiki. For more info about Paralio Chalkidiki Hotel, please visit the official website.
Accommodation : Rest of Kassandra Hotels
kassandra hotels afitos hotels
|
kassandra fourka hotels
|
kassandra hanioti hotels
|
kassandra pefkohori hotels
|
kassandra possidi hotels
|
kassandra potidea hotels
Accommodation : Rest of Chalkidiki
kassandra hotels
|
mount athos hotels
|
sithonia hotels
Accommodation : Rest of Greece
attica
|
chalkidiki
|
dodecanese islands
|
crete island
|
cyclades islands
|
ionian islands
|
ne aegean islands
|
peloponnese
|
saronic islands