Koufonisia Hotels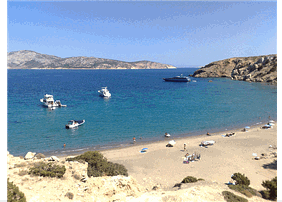 Koufonisia (Koufonissia) Islands, Small Cyclades (Little Cyclades), Greece
Koufonisia Islands (otherwise spelled Koufonissia, Koufonisi, Koufonissi) is part of the group known as the Small Cyclades (or Little Cyclades, or Lesser Cyclades). Koufonisia were discovered by tourists just the last ten years. They are located east of Naxos Island and north of Amorgos.
The group consists of three Islands; Pano Koufonisi (Upper Koufonisia), Kato Koufonisi (Lower Koufonisia) and Keros Islet.
Pano Koufonisi is the largest island of the group, but is the smallest and most populated island in Cyclades islands. It has an area of 3.5 sq.km and about 350 residents. Koufonisi is a true fishing village. We could say that there are more fishing boats than residents. In a few words, it is an island of extreme beauty and charm, a paradise on earth for those seeking for quiet and relaxing holidays.
There are a few nice hotels, studios, hotel apartments, villas and rooms for rent on the Island, as well as cafe bars and taverns offering drinks, delicious snacks and of course fresh fish.
There is a number of heavenly, mostly sandy beaches to relax and enjoy swimming and snorkeling into crystal clear waters.
Kato Koufonisi is a place of virgin beauty with sandy beaches that are offered for isolation and calm, and is almost uninhabited. There are a few fishermen's huts inhabited during summer months, the famous tavern Venetsanos and the chapel of Virgin Mary, where the festival of Virgin Mary (Panagia) takes place on the 15th of August.
Keros islet is a protected archaeological site and is uninhabited. In the 20th century, a large number of ancient Cycladic art pieces have been excavated.
Koufonissia have regular connection with Naxos Island, as well as with Piraeus Port all year round.
Category: N/A
- Koufonisia hotels

Magic Blue Travel is a professional travel agency, which offers accommodation and travel services in various locations in Greece, such as Athens, Santorini, Mykonos, Paros, Milos, Naxos, Amorgos, Crete, Rhodes, and other islands. Travel services provided in Koufonisia (Koufonissia) include tours and excursions, cruises, and much more.
Accommodation : Rest of Koufonisia Hotels
Accommodation : Rest of Cyclades Islands
amorgos hotels
|
andros hotels
|
antiparos hotels
|
donoussa hotels
|
ios hotels
|
kea tzia hotels
|
koufonisia hotels
|
milos hotels
|
mykonos hotels
|
naxos hotels
|
paros hotels
|
santorini hotels
|
schinoussa hotels
|
serifos hotels
|
syros hotels
|
tinos hotels
Accommodation : Rest of Greece
attica
|
chalkidiki
|
dodecanese islands
|
crete island
|
cyclades islands
|
ionian islands
|
ne aegean islands
|
peloponnese
|
saronic islands