Cyclades Islands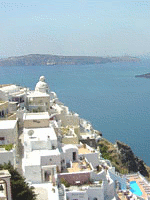 The Cyclades Islands, Greece
The Cyclades Islands cluster is a group of Greek Islands situated in the deep blue Aegean Sea. It is considered one of the finest vacation destinations worldwide, providing visitors with a wide range of diverse characteristics.
All Cycladic Islands share some distinctive features, such as the renowned Cycladic architecture, narrow cobblestone alleyways, exciting nightlife, fascinating archaeological, historical, religious and natural sights, quaint seaside and mountain villages and endless beaches. Each island though has several specific characteristics that make it stand out from the rest, making the islands absolutely unique, each in its own way.
The Cycladic Islands will satisfy all types of visitors by offering both stimulating, energetic holidays, or quiet, relaxed vacations. Whether you are vacationing as a family, a group of friends, a couple or alone, you will definitely find your ideal holiday destination among the Cyclades.
The Cyclades Islands have an outstanding tourist infrastructure and provide guests with an inexhaustible number of hotel resorts, hotels, apartments, studios, rooms for rent, suites, villas and traditional houses.
The Main Cyclades Islands are: Amorgos, Anafi, Andros, Antiparos, Delos, Folegandros, Ios, Kea, Kimolos, Kythnos, Milos, Mykonos, Naxos, Paros, Santorini, Serifos, Sikinos, Sifnos, Small Eastern Cyclades Islands (Donoussa, Irakleia, Koufonisia and Schinoussa), Syros and Tinos.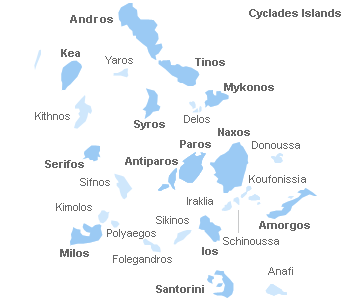 Accommodation : Rest of Cyclades Islands
amorgos hotels
|
andros hotels
|
antiparos hotels
|
donoussa hotels
|
ios hotels
|
kea tzia hotels
|
koufonisia hotels
|
milos hotels
|
mykonos hotels
|
naxos hotels
|
paros hotels
|
santorini hotels
|
schinoussa hotels
|
serifos hotels
|
syros hotels
|
tinos hotels
Accommodation : Rest of Greece
attica
|
chalkidiki
|
dodecanese islands
|
crete island
|
cyclades islands
|
ionian islands
|
ne aegean islands
|
peloponnese
|
saronic islands