Amorgos Hotels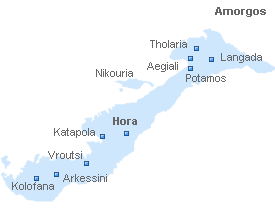 Amorgos Island, Cyclades, Greece
Among the Cyclades Islands, situated at the easternmost point of the cluster is the breathtaking Greek island of Amorgos.
It is an island of great history, as it was one of the centers of the Cycladic civilization, and an ideal destination for sightseers.
Amorgos natural features are absolutely stunning including unexplored terrain, mountainous landscapes, rocky coves and sandy beaches.
The island possesses all the picturesque characteristics of the Cyclades: whitewashed houses, cobblestone alleyways and splendid churches. After a day of relaxation and sightseeing, you can choose from a wide variety of night time entertainment venues in Amorgos Town (Chora, Hora), Aegiali and Katapola.
Hotel accommodation, rooms for rent and apartments can be found in the seaside and mountain villages.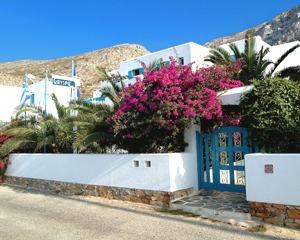 3 star (***) hotel studios and apartments in Aegiali, Amorgos, with air-conditioning, a private bathroom, a kitchen with a fridge, a phone, a TV, and a mini bar, while some have a balcony with a sea view. The apartments and studios are situated just 200 m from Aegiali Beach, one of the loveliest beaches on Amorgos Island, and 250 m from Aegiali Port. Aegiali is a superb vacation destination for those who like to lie on beaches and have fun at stimulating nightlife venues. Find more information about the Gryspo's Apartments & Studios in Amorgos in its site.
Accommodation : Rest of Amorgos Hotels
amorgos hotels aegiali hotels
|
amorgos chora hotels
|
amorgos katapola hotels
|
amorgos langada hotels
|
amorgos vroutsi hotels
Accommodation : Rest of Cyclades Islands
amorgos hotels
|
andros hotels
|
antiparos hotels
|
donoussa hotels
|
ios hotels
|
kea tzia hotels
|
koufonisia hotels
|
milos hotels
|
mykonos hotels
|
naxos hotels
|
paros hotels
|
santorini hotels
|
schinoussa hotels
|
serifos hotels
|
syros hotels
|
tinos hotels
Accommodation : Rest of Greece
attica
|
chalkidiki
|
dodecanese islands
|
crete island
|
cyclades islands
|
ionian islands
|
ne aegean islands
|
peloponnese
|
saronic islands