Donoussa Hotels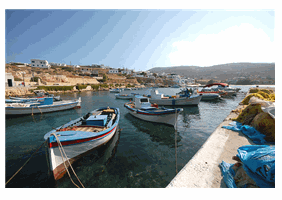 Donoussa (Donousa) Island, Small Cyclades (Little Cyclades), Greece
Donoussa (Donousa) Island is located east of Naxos Island, north of Amorgos Island and northeast of Schinousa and Koufonisia Islands.
Donoussa is a paradise on earth, ideal for those who are willing to pass their holidays far away from overcrowded islands.
There are some fish taverns with fresh fish and local specialities.
There are no hotels on the island but there are some nice hotel studios and rooms for your accommodation.
The Island is divided in 4 settlements, Donoussa which is the capital and the port, Kalotaritissa, Charavgi and Mersini.
Most of the island's life is located in the port of Donoussa, (Agios Stavros), which is very picturesque, providing a magnificent sunset view.
There are several nice sandy beaches all over the Island.
Category: N/A
- Donoussa hotels

Magic Blue Travel is a professional travel agency, which offers accommodation and travel services in various locations in Greece, such as Athens, Santorini, Mykonos, Paros, Milos, Naxos, Amorgos, Crete, Rhodes, and other islands. Travel services provided in Donoussa (Donousa) include tours and excursions, cruises, and much more.
Accommodation : Rest of Donoussa Hotels
Accommodation : Rest of Cyclades Islands
amorgos hotels
|
andros hotels
|
antiparos hotels
|
donoussa hotels
|
ios hotels
|
kea tzia hotels
|
koufonisia hotels
|
milos hotels
|
mykonos hotels
|
naxos hotels
|
paros hotels
|
santorini hotels
|
schinoussa hotels
|
serifos hotels
|
syros hotels
|
tinos hotels
Accommodation : Rest of Greece
attica
|
chalkidiki
|
dodecanese islands
|
crete island
|
cyclades islands
|
ionian islands
|
ne aegean islands
|
peloponnese
|
saronic islands