Messinia Hotels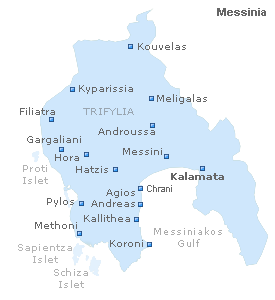 Messinia Prefecture, Peloponnese, Greece
The prefecture of Messinia is a blessed land ideal for all year round vacations due to its pristine beaches, magnificent landscapes, lush forests and imposing mountains.
Messinia is located in the south west of Peloponnese and attracts tourists from Greece and abroad who explore the beautiful nature, the scenic coastal and mountainous villages and enjoy the hospitality of Messinians who always welcome people with a smile. Its capital is the town of Kalamata, yet there is a plethora of other towns and villages where you can spend relaxing holidays, such as Chrani, with lovely seaside hotels, apartments and studios for your accommodation in Messinia Greece.
There are a lot of places to visit in Messinia; Middle Age castles, the archaeological site in Ancient Messini, the ancient town of Filiatra, the Mycenaean Palace in Hora Trifilias and much more...
Accommodation : Rest of Messinia Hotels
messinia hotels chrani hotels
Accommodation : Rest of Peloponnese
arcadia hotels
|
argolis hotels
|
laconia hotels
|
messinia hotels
Accommodation : Rest of Greece
attica
|
chalkidiki
|
dodecanese islands
|
crete island
|
cyclades islands
|
ionian islands
|
ne aegean islands
|
peloponnese
|
saronic islands