Serifos Hotels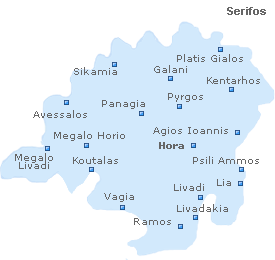 Serifos Island, Cyclades, Greece
Serifos Island belongs to the Cyclades cluster and is relatively close to Athens. The main attractions of the island are its 72 beautiful beaches, although it is also known for its small bays, whitewashed houses and lush green landscapes.
Serifos possesses many historical sites of the Hellenistic, Venetian and Byzantine periods as well. Throughout the island there are hotels, apartments and rooms for rent that offer comfortable accommodation to visitors.

This 2 star (**) hotel is located in Livadi, Serifos, just 500 m from Serifos Port and 150 m from Livadakia Beach. The hotel includes a lounge, an indoor and outdoor cafe and a breakfast room. All hotel room are air-conditioned and feature a bathroom, a fridge, satellite TV, a safe deposit box, a phone and a balcony with a sea or mountain view.

2-key studios and rooms in Livadi Serifos with air-conditioning, a private bathroom, a fridge, a TV, wi-fi internet, hair dryer and a balcony, some of which have a beautiful sea or mountain view. Several units also have a kitchen. The studios and rooms are situated 80 meters from the stunning beach of Livadi and close to Serifos Port, where all the nightlife of the island is located. Visit the Villa Niki website for more information.

2 star (**) Hotel rooms and apartments in Livadi, Serifos Island, fully air-conditioned with a private bathroom, a phone, a TV, and a balcony with a Serifos Town or Aegean Sea view. Guests of the Maistrali Serifos Hotel can relax at the bar and cafes gazing at the sea, or stroll through the town taking in the amazing island-style aura. See the Maistrali Hotel in Livadi Serifos up close at its website.
Accommodation : Rest of Serifos Hotels
serifos hotels livadi hotels
Accommodation : Rest of Cyclades Islands
amorgos hotels
|
andros hotels
|
antiparos hotels
|
donoussa hotels
|
ios hotels
|
kea tzia hotels
|
koufonisia hotels
|
milos hotels
|
mykonos hotels
|
naxos hotels
|
paros hotels
|
santorini hotels
|
schinoussa hotels
|
serifos hotels
|
syros hotels
|
tinos hotels
Accommodation : Rest of Greece
attica
|
chalkidiki
|
dodecanese islands
|
crete island
|
cyclades islands
|
ionian islands
|
ne aegean islands
|
peloponnese
|
saronic islands