Rhodes Hotels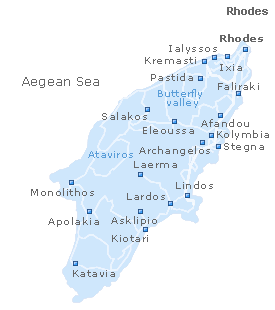 Rhodes (Rhodos, Rodos) Island, Dodecanese, Greece
Rhodes (Rhodos, Rodos) is the largest island in the Dodecanese cluster and is a land of great history and impressive natural beauty, making it one of the most popular tourist destinations in Greece.
Rhodes island has been inhabited by various cultural groups, each of which has left its mark on the island's architectural features and on the everyday way of life of the Rhodites.
Rhodes Island offers visitors a very wide range of luxury hotels, beach hotel resorts, apartments, rooms for rent, studios and suites.
Accommodation : Rest of Rhodes Hotels
rhodes hotels kiotari hotels
|
rhodes rodos town hotels
Accommodation : Rest of Dodecanese Islands
leros hotels
|
patmos hotels
|
rhodes hotels
|
tilos hotels
Accommodation : Rest of Greece
attica
|
chalkidiki
|
dodecanese islands
|
crete island
|
cyclades islands
|
ionian islands
|
ne aegean islands
|
peloponnese
|
saronic islands