Argolis Hotels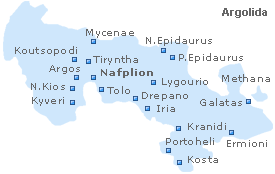 Argolis (Argolida) Prefecture, Peloponnese, Greece.
The prefecture of Argolida is most well known for its extraordinary archaeological sites, its dazzling beaches and its cosmopolitan seaside resorts (Nafplion, Tolo, Porto Heli, Epidaurus), with an abundance of hotels, apartments, villas, bungalows and rooms for rent.
The Argolida prefecture is located on the northeastern side of the Peloponnese and is at close proximity to Athens and the Saronic Islands.
Accommodation : Rest of Argolis Hotels
argolis hotels nafplion hotels
|
argolis tolo hotels
Accommodation : Rest of Peloponnese
arcadia hotels
|
argolis hotels
|
laconia hotels
|
messinia hotels
Accommodation : Rest of Greece
attica
|
chalkidiki
|
dodecanese islands
|
crete island
|
cyclades islands
|
ionian islands
|
ne aegean islands
|
peloponnese
|
saronic islands