Aegina Hotels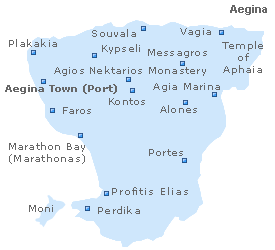 Aegina (Egina) Island, Saronic Islands, Greece
Aegina (Egina) is the largest island in the Saronic cluster and is one of the most frequented islands in Greece, due to its proximity to Athens. Hundreds of visitors arrive in Aegina for a weekend break or for longer vacations during both summer and winter months.
The island is characterized by its lovely beaches, large fields of pistachio trees, picturesque villages and some very impressive archaeological and historical sites.
There is a variety of hotels in Aegina to choose from. Family hotels, seaside hotels, hotel apartments, villas, studios, pension houses and rooms to let.
Accommodation : Rest of Aegina Hotels
aegina hotels aegina town hotels
|
aegina agia marina hotels
|
aegina perdika hotels
|
aegina souvala hotels
|
aegina vagia hotels
Accommodation : Rest of Saronic Islands
aegina hotels
Accommodation : Rest of Greece
attica
|
chalkidiki
|
dodecanese islands
|
crete island
|
cyclades islands
|
ionian islands
|
ne aegean islands
|
peloponnese
|
saronic islands