Athens Hotels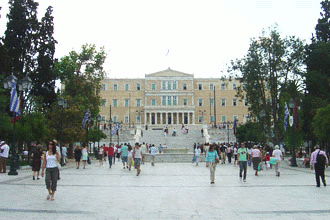 Athens, Attica, Greece
No other city in the world offers the versatility of Athens. It is an amalgam of cultures and historical characteristics, all fused together, creating one unique holiday or business destination. The sheer volume of hotels, rooms for rent, studios, suites and apartments offered in Athens is astounding, satisfying every need and taste.
The new Athens International Airport (Eleftherios Venizelos) at Spata, is considered as one of the best in Europe. New hiways drive to Athens City center and takes 40 minutes up to 1 hour to be there by car. You may travel to Athens also by Train (cost 8 Euro), by Bus (cost 3.50 Euro) or by Taxi (20 to 25 Euro plus Road Tolls 3 Euro).
While in Athens, visitors can experience the ancient aspect of the city such as the exquisite archaeological and historical sites, the old neighborhoods beneath the Acropolis and its traditional tavernas, or its modern features such as stimulating nightlife venues, contemporary shopping centers and nearby organized beaches.
Athens City has an outstanding tourist infrastructure and provide guests with an inexhaustible number of hotel resorts, luxury hotels and suites, apartments, studios and rooms for rent.

Athens Hotel Guide offers all types and categories of hotels, apartments and suites. Find hotels in Athens city, Piraeus, Downtown Athens, Athens Coast Hotels, Luxury, Budget, Family hotels, apartments and suites.
Accommodation : Rest of Athens Hotels
athens hotels athens city hotels
|
athens glyfada hotels
|
athens kifissia hotels
Accommodation : Rest of Attica
athens airport hotels
|
athens hotels
|
piraeus hotels
|
sounion hotels
Accommodation : Rest of Greece
attica
|
chalkidiki
|
dodecanese islands
|
crete island
|
cyclades islands
|
ionian islands
|
ne aegean islands
|
peloponnese
|
saronic islands