Antiparos Hotels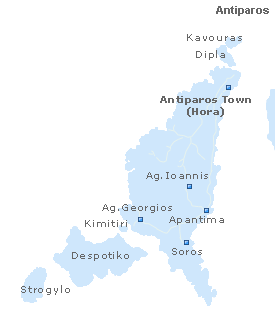 Antiparos Island, Cyclades, Greece
The small island of Antiparos belongs to the Cycladic Island Cluster and is southwest of Paros.
It is a picturesque island that is embraced by beautiful sandy beaches, secluded coves and crystal waters.
Its whitewashed houses, narrow cobble stone alleyways, tiny churches and "vokamvilia" flowers compose a genuine Cycladic image. It is a favourite destination of families, romantics and people looking for a unique holiday getaway.
All types of accommodation are available in Antiparos: hotels, rooms for rent, apartments, studios and suites.

The traditional style KASTRO ANTIPAROS Apartments & Studios in Antiparos Town, in the Kastro district, includes elegant 3-key hotel rooms, studios, apartments, suites and houses that will accommodate you in a friendly and hospitable setting, close to the seaside. Types of accommodation are air-conditioned and feature a TV, a fridge, a private bathroom, a sitting area, and a veranda with a wonderful view of the sea and the hotel garden. Some studios, apartments, the suites and the houses include a kitchen. The hotel lies in a quiet location and includes a garden, a TV-DVD lounge, a lounge, a café, a playground, a bar, barbeque facilities, and a parking lot for extra convenience. It is situated just 200 m from the beautiful Psaralyki Beach and some great tavernas. For more info about Kastro Apartments & Studios, visit its website and also view the offers available

2 star (**) apartments, rooms and studios in Antiparos Town, with air-conditioning, a TV, a fridge, a phone, and a balcony with a view of the sea or the mountainside. The hotel includes facilities like a café, a veranda, a TV lounge, a parking area, internet access, car rentals etc. The apartments, studios and rooms are situated 500 m from Antiparos Port and 700 m from Psaralyki Beach, in a quiet area where you can relax. For more details, visit the website of Artemis Hotel in Antiparos Town.
Accommodation : Rest of Antiparos Hotels
antiparos hotels antiparos town hotels
Accommodation : Rest of Cyclades Islands
amorgos hotels
|
andros hotels
|
antiparos hotels
|
donoussa hotels
|
ios hotels
|
kea tzia hotels
|
koufonisia hotels
|
milos hotels
|
mykonos hotels
|
naxos hotels
|
paros hotels
|
santorini hotels
|
schinoussa hotels
|
serifos hotels
|
syros hotels
|
tinos hotels
Accommodation : Rest of Greece
attica
|
chalkidiki
|
dodecanese islands
|
crete island
|
cyclades islands
|
ionian islands
|
ne aegean islands
|
peloponnese
|
saronic islands