Syros Hotels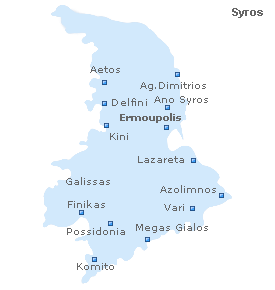 Syros Island, Cyclades, Greece
Syros is the capital of Syros Island as well as the capital of the Cycladic Islands Cluster. Syros is one of the most developed Greek islands, with many tourist venues such as hotels, apartments, camping, bungalows, rooms, cafés, restaurants and clubs.
It has been greatly influenced by the Frankish rule and as a result Syros has many beautiful neoclassical buildings and manors, impressive squares and an amazing air of nobility.
Syros also possesses many breathtaking natural features such as hills, plains, cultivated land and fields that interchange with bays, sandy beaches and the blue waters of the Aegean Sea.
The island is also known for its many well preserved historical and archaeological sites and picturesque villages with whitewashed houses.
Accommodation : Rest of Syros Hotels
syros hotels possidonia hotels
Accommodation : Rest of Cyclades Islands
amorgos hotels
|
andros hotels
|
antiparos hotels
|
donoussa hotels
|
ios hotels
|
kea tzia hotels
|
koufonisia hotels
|
milos hotels
|
mykonos hotels
|
naxos hotels
|
paros hotels
|
santorini hotels
|
schinoussa hotels
|
serifos hotels
|
syros hotels
|
tinos hotels
Accommodation : Rest of Greece
attica
|
chalkidiki
|
dodecanese islands
|
crete island
|
cyclades islands
|
ionian islands
|
ne aegean islands
|
peloponnese
|
saronic islands