Attica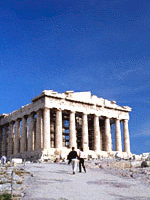 Attica Prefecture, Greece
The prefecture of Attica, located in Mainland Greece, is a region of great history, culture, archaeological sites, art, drama, music and astonishing natural beauty. It is an area unlike anywhere else in the world, where modern combines with ancient and west meets east. Attica's excellent tourist infrastructure provides guests with an inexhaustible range of hotels, luxury hotels, rooms for rent, apartments, suites and studios, shopping centers and dining venues as well as the best nightlife in Europe.
The historical city of Athens, capital of Greece and cradle of western civilization, is situated in the Attica prefecture, as are other cities of great historical importance such as Piraeus, Marathon, Eleusis (Elefsina), Lavrion, Cape Sounion and Megara. Throughout Attica there are innumerable archaeological and historical sites that are definitely worth the visit. The most prominent are the Acropolis, the Parthenon, the Ancient Agora, the Erechtheion, the Acropolis Museum, the Herod Atticus Odeon, the Panathenaic Stadium (the Marble Stadium), the Temple of Zeus, the Sanctuary of Poseidon and Athena, Marathon and its Museum, the National Archaeological Museum, The Museum of Cycladic and Ancient Greek Art.
The new Athens International Airport (Eleftherios Venizelos) in Spata is one of the finest airports in Europe. From the Athens Airport you can reach Athens City Center via the new Attica highway. The drive is about 40 minutes to 1 hour long. You may also travel to Athens by train (fee: 8 euro) or by bus (fee: 2.90 euro, both of which frequently depart from their stations at the Athens Airport.
Along the coast of Attica there are beautiful beaches and clean waters. Seaside resorts such as Glyfada, Nea Makri, Rafina, Lagonissi, Cape Sounion, Oropos, Voula, Vouliagmeni and Varkiza are preferred by locals and visitors alike.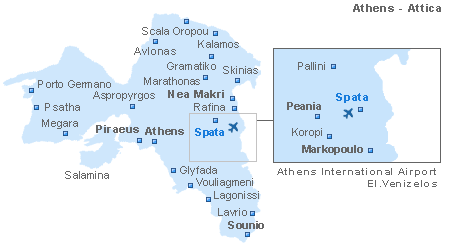 Accommodation : Rest of Attica
athens airport hotels
|
athens hotels
|
piraeus hotels
|
sounion hotels
Accommodation : Rest of Greece
attica
|
chalkidiki
|
dodecanese islands
|
crete island
|
cyclades islands
|
ionian islands
|
ne aegean islands
|
peloponnese
|
saronic islands