Corfu Hotels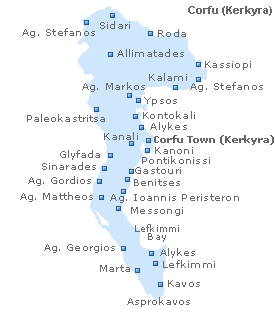 Corfu (Korfu, Kerkyra) Island, Ionian Islands, Greece
Corfu (Kerkyra) Island belongs to the cluster of Ionian Islands (Eptanissa). Corfu is considered one of the prime vacation resorts world wide, attracting thousands of visitors every year.
The island is distinguished by both traditional Greek and European characteristics, which have influenced Corfu's physical appearance and culture as well as the personality of the inhabitants.
The island is verdant and has many lovely beaches ideal for swimming and sunbathing, while several areas offer magnificent sunset views. Corfu (Korfu) has played a major role in Greek history and therefore has many historical and religious sites to visit.
Hotels, resorts, apartments, rooms and suites are offered in abundance on Corfu (Kerkyra).

2 star (**) hotel rooms and apartments in Corfu Town, with air-conditioning, a bathroom, a TV, a sitting area, a direct dial phone, and wifi internet access. Some units have a living room and a view of the mountains and the sea. A variety of facilities are offered, including a restaurant, a bar and a parking area. The apartments and rooms are located near Corfu Port, 4 km from Corfu Airport, and 3 km from Mon Repo Beach. Corfu Town is one of the most attractive and exciting towns in Greece, with a rich history and a cosmopolitan character. Visit the Atlantis Corfu Hotel site for more info about its facilities.
Accommodation : Rest of Corfu Hotels
corfu hotels agios stefanos hotels
|
corfu benitses hotels
|
corfu corfu town hotels
|
corfu glyfada hotels
|
corfu kanoni hotels
|
corfu messonghi hotels
Accommodation : Rest of Ionian Islands
corfu hotels
|
kefalonia hotels
|
lefkada hotels
|
meganissi hotels
|
zakynthos hotels
Accommodation : Rest of Greece
attica
|
chalkidiki
|
dodecanese islands
|
crete island
|
cyclades islands
|
ionian islands
|
ne aegean islands
|
peloponnese
|
saronic islands