Chania Hotels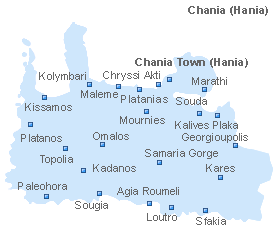 Chania (Hania) Prefecture, Crete (Kreta) Island, Greece
The Chania (Hania) prefecture is located on the western side of Crete. It is packed with innumerable beaches, gorges, caves, canyons and hills that are perfect for the outdoors' lover.
The Chania prefecture possesses an abundance of historical, religious and archaeological sites and some of the finest beaches in Crete.
At night time, visitors can spend hours relaxing at the seaside or countryside cafés, bars, taverns and restaurants of Chania.
Visitors can find all types of accommodation in Chania: hotels, rooms for rent, apartments, studios, suites and villas.
Accommodation : Rest of Chania Hotels
chania hotels chania town hotels
|
chania chryssi akti hotels
|
chania kolymbari kissamou hotels
Accommodation : Rest of Crete Island
chania hotels
|
heraklion hotels
|
lassithi hotels
|
rethymnon hotels
Accommodation : Rest of Greece
attica
|
chalkidiki
|
dodecanese islands
|
crete island
|
cyclades islands
|
ionian islands
|
ne aegean islands
|
peloponnese
|
saronic islands