Sithonia Hotels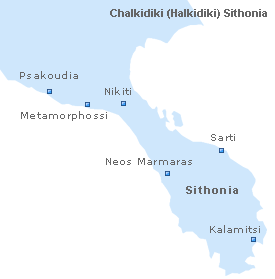 Sithonia Prefecture, Chalkidiki (Halkidiki), Greece.
Sithonia is the middle peninsula of Chalkidiki (Halkidiki) and is famous for its combination of unique features. It is an area full of beautiful landscapes, picturesque harbors, golden beaches, secluded bays, peaceful villages, historical sites and amazing architecture. Sithonia is a popular holiday resort due a mixture of many different attributes it offers. It is a tourist haven, although it has managed to avoid most of the urban influences. Sithonia provides visitors with many entertainment venues, and organized hotels, rooms for rent, apartments and resorts. Travelling around Sithonia is a true experience, since its characteristics are unparalleled and breathtaking.

1 key apartments and studios in Kalamitsi, Chalkidiki with air-conditioning, a private bathroom, a kitchen, a fridge, and a veranda, some of which provide a splendid mountain view. The studios and apartments are situated 200 meters from the popular beach of Kalamitsi, one of the best beaches in Sithonia, Chalkidiki. Visit the Nine Muses Chalkidiki Apartments & Studiosą website for more information.

4 star (****) apartments and studios in the Sarti, Chalkidiki, with air-conditioning, a kitchen, a bathroom, a fridge, sat TV, and a veranda or balcony with a mountain or sea view. The Erifili Apartments & Studios are located in Sarti, Sithonia, one of the most popular holiday resorts in Chalkidiki, with a superb beach. For more information, visit the website of Erifili Chalkidiki Apartments & Studios.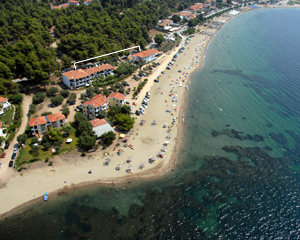 The Philoxenia Bungalows Hotel in Sithonia Halkidiki is a complex of spacious rooms and apartments in Halkidiki located just 150 meters from the sea, on the beach in Psakoudia. The hotel offers a lot of facilities and services, including a swimming pool, a kid's pool, water sports, bars, a restaurant, and more. This Sithonia Halkidiki hotel is surrounded by vegetable cultivation, making it one of the most attractive Sithonia hotels in Halkidiki.

2 star (**) hotel apartments, studios and suites in Paradissos, Sithonia, Chalkidiki, with a fridge, a TV, a kitchenette, a phone and a balcony. Some units have a sea view and offer satellite TV. Visitors can wind down at the hotel swimming pool, bars and lounges. The apartments, studios and suites are just 10 m from the lovely Paradise Beach and 1 km from Neos Marmaras, a very popular holiday resort in Chalkidiki. For more details, visit the Sunset Chalkidiki Hotel Apartments, Studios & Suites web site.
Accommodation : Rest of Sithonia Hotels
sithonia hotels kalamitsi hotels
|
sithonia neos marmaras hotels
|
sithonia nikiti hotels
|
sithonia psakoudia hotels
|
sithonia sarti hotels
Accommodation : Rest of Chalkidiki
kassandra hotels
|
mount athos hotels
|
sithonia hotels
Accommodation : Rest of Greece
attica
|
chalkidiki
|
dodecanese islands
|
crete island
|
cyclades islands
|
ionian islands
|
ne aegean islands
|
peloponnese
|
saronic islands