SANTORINI FESTIVALS & PRODUCTS

Santorini Festivals & Events: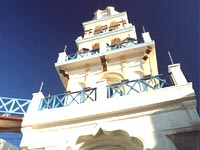 All year long, but especially during the summer months, Santorini hosts a number of cultural, musical and religious festivals. The most prominent Santorini festivals are:
- The Santorini Jazz Festival, which takes place in July.

-The "Ifaisteia" Festival, which takes place in August and includes various cultural events, music concerts, traditional dance performances and representation of a volcanic explosion with fireworks.

-The International Music Festival, held in early September. Famous artists from all over the world perform at the Nomikos Conference Center.

-The Festival of Episkopi in Mesa Gonia on August 15. The traditional fava dish is served to all participants.

-Church celebrations and festivals: Each church on the island has a celebration on the name day of its patron saint, which often includes open-air stalls selling traditional products, food and wine. The most popular festivals are Profitis Ilias on July 20 in Fira, Metamorfosi Sotiros on August 6 and Virgin Mary on August 15 in Akrotiri, Panagia Myrtidiotissa on September 24 in Kamari, Agion Epta Paidion on August 4 in Oia and Agios Ioannis on August 29 in Perissa.

Santorini Products: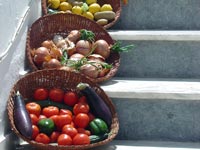 While on Santorini Island you definitely must try the local cuisine, as a meal of Santorini delicacies is a culinary masterpiece. First, select a Santorini wine from one of the three varieties: Asyrtiko, Athiri and Aidani. Generations of Santorinians have been producing these unique wines, which are very distinctive in taste and bouquet due to the volcanic soil of the island. Once you have chosen a wine, order some Santorinian dishes, such as tomato balls, squash balls, fava (seasoned lentil dip), fried white eggplant, eggplant dip, sun-dried cherry tomatoes, baked squid and other fresh seafood dishes.