SANTORINI BEACHES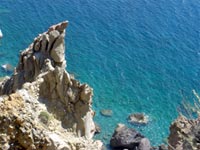 The island of Santorini is famous for its beaches with colorful sands that come from volcanic rocks on the eastern and southern sides of the island, as well as the sandy and smooth pebbly beaches on the western and northern sides of the island.

The Black Beach that stretches along the coast of the villages Perivolos, Perissa, Kamari and Monolithos, is the most frequented of all Santorini Beaches. Kamari Beach and Perissa Beach offer a wide selection of hotels, rooms for rent and apartments, as well as a number of seaside tavernas, bars and cafes. The beaches are organized and provide a variety of water sports facilities, umbrellas and sun beds.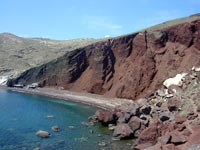 The Red and White Beaches near Akrotiri, are two stunning Santorini Beaches, located beneath dramatic cliffs. The White Beach can be reached only by excursion boat, but it is well worth the trip.

The beaches of Amoudi and Armeni are situated below the settlement of Oia (Ia), and are quite popular. Amoudi Beach is one of the most charming Santorini Beaches, with clean, clear waters, a small harbor and several quaint fish taverns and cafes. Both beaches are easy to get to from Oia, Imerovigli and Fira, where there are a plethora of hotels, studios, apartments, suites and rooms for rent.

Vlyhada Beach, in southern Santorini, is a wonderful place to relax, as it is one of the less frequented Santorini Beaches. Other lovely beaches are Baxedes and Vourvoulos, which are ideal if you prefer to swim at a secluded beach or if you are on family holidays with small children.