SANTORINI VILLAS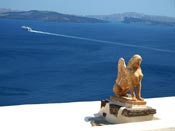 In contrast to the usual hotel rooms and apartments, an up-and-coming type of accommodation in Santorini is holiday villas. Imagine spending your vacation in a spacious villa, sitting on your own private veranda that overlooks the beautiful Santorini volcano and sunset, or the endless Aegean Sea. What a wonderful way to spend a relaxing and enjoyable holiday in one of the best destinations in the world.

For those who have decided on Santorini villas for their accommodation, they will have no trouble finding one to suit their budget and style. There are Santorini villas that are newly built, a fusion of traditional and modern architecture and design. Other Santorini villas are renovated captain's mansions, where the atmosphere of old Santorini is retained, enhanced by ultra-modern amenities.

Visitors will find excellent Santorini luxury villas for rent throughout the island, along the Caldera rim in the towns of Fira, Oia, and Imerovigli, in the peaceful hillside settlement of Firostefani, in the seaside villages of Akrotiri, Perissa and Kamari, as well as in the inland villages, among the vineyards. Most of the Santorini villas offer easy access to the marvellous beaches of Santorini Island, superb historical sites and museums, as well as the dining and entertainment venues scattered around the island. For stimulating nightlife, we recommend Santorini villas in Fira, Kamari and Perissa, while the settlements of Oia, Imerovigli, Firostefani and Akrotiri offer quieter bars and cafes where you can enjoy a relaxing drink.

Santorini villas mainly cater for families and groups of friends, as they usually accommodate parties larger than four persons, in separate bedrooms, and include a kitchen, and private verandas. Some Santorini luxury villas for rent provide additional facilities, such as swimming pools and private parking areas. Couples can also spend an enjoyable vacation in Santorini villas, especially if they want total privacy and spacious rooms.

With such a large selection of Santorini villas available, even the most demanding world traveller will be totally astounded by the high quality of accommodation and the magical views while on holiday in Santorini Island Greece.