SANTORINI HONEYMOON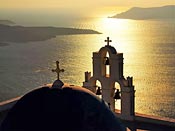 While searching the internet for the perfect honeymoon destination, you're bound to come across Santorini Greece many times. This is because Santorini is a unique island, with a magical aura that makes it the prime honeymoon spot in the world. Nonchalant strolls through the picturesque villages, lazy afternoons under the sun on colourful beaches, delicious dinners at gourmet restaurants and breathtaking sunsets at dusk. Is there any doubt that your Santorini honeymoon will be absolutely unforgettable?

Picture yourself on your honeymoon in Santorini Greece, in the arms of the one your love, gazing at the Santorini volcano from your hotel balcony, or taking romantic strolls along sandy beaches as the waves lick your feet and the cool breeze of the Aegean Sea blows through your hair.

Santorini Greece is one of the finest honeymoon destinations around the globe, catering especially for the needs of newlywed couples. There is a magnificent variety of Santorini honeymoon suites for every taste and style. Honeymoon suites in Santorini are decorated to match the special occasion, creating a romantic setting for couples embarking on a new life together. Lavish facilities and additional services are provided for newlyweds staying in Santorini honeymoon suites, including Jacuzzis or hot tubs, four-post beds with veils, champagne, fruit baskets, designer bathrobes and slippers; anything to honor their honeymoon trip. If you are planning your honeymoon in Santorini Greece, you will be treated like royalty by the Santorini honeymoon hotels management and staff.

One of the most romantic activities for newlywed couples while on honeymoon in Santorini Greece is a cruise in the Caldera at sunset. Imagine sailing the Aegean Sea, ripping the Caldera waters as the golden rays reflect on the surface of the sea. For couples in love, a Santorini honeymoon cruise to the volcanic isles of Thirassia, Palea kammeni and Nea Kammeni is a must.

While honeymooning in Santorini Greece, don't forget to take many romantic pictures of you and your loved one with the marvellous sunset in the background, or among the whitewashed houses of the island, or lying on splendid beaches sipping cocktails as the waves lap the sand. These are the precious moments of your lifetime that should be captured to remind you of the beauty of your love and of Santorini Greece.