SANTORINI SUITES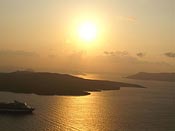 Are you considering coming to Greece for a honeymoon, an anniversary or a romantic trip for two? If so, just ask anyone who has vacationed in Santorini Greece and they will tell you that it is incomparable to any other destination in the world. Picturesque whitewashed villages, unique colourful beaches, impressive ancient sites, the most magnificent sunset view known to man, and the excellent Santorini suites, all of which create a prime holiday destination for romantics.

Santorini Island Greece possesses one of the most well-developed tourist infrastructures in Greece, prepared to host a great number of visitors every year, including common travellers, celebrities and the world's jet set crowd, who select Santorini Greece as their favorite vacation spot. One of the most popular types of accommodation on the island is Santorini suites, which can be found in large resorts, hotels and suite complexes.

Santorini suites are decorated and designed in the most stylish and fashionable manner, offering luxurious amenities, with a traditional Cycladic twist. Santorini is an extremely popular honeymoon destination and so most hotels include Santorini honeymoon suites that are furnished and embellished with a plethora of lavish facilities and comforts for the newlywed couple, such as veiled beds, Jacuzzi tubs, champagne, and more. Those staying in Santorini honeymoon suites are pampered to make their stay extra special.

Santorini suites are also ideal for travellers with a 'sweet tooth' for luxury and style. If it's posh accommodations your want, Santorini suites are top-notch, catering for their occupants' every need.

Wherever you choose to stay on the island, Santorini suites are widely available. If you want to stay in the resorts overlooking the Caldera and the sunset, we suggest Santorini suites in Fira, Firostefani, Imerovigli and Oia. Akrotiri also offers a view of the volcano, as well as easy access to wonderful beaches and priceless ancient sites and museums. For Santorini suites located on sandy beaches, near entertainment venues and exquisite archaeological sites, we suggest staying in Kamari and Perissa.

By selecting Santorini as your island getaway and Santorini suites as your accommodation, you are guaranteed amazing experiences. So, why not arrange to come to Santorini Greece on holiday this year?