SANTORINI HISTORY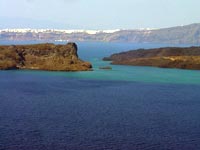 Santorini was formed by a series of volcanic eruptions which affected the whole Aegean, all the way to Crete. Originally, the island was named Kallisti (the beautiful one) and Strogyli (the round one). Many people inhabited the island, starting from the Pre-Hellenes, then the Phoenicians and the Dorians, who named the island Thira, after their King Thiras. During the 16th century BC, the Minoans settled on the island, which became an important center of the Minoan civilization.

Around 1550 - 1500 B.C. a violent volcanic explosion caused the submergence of the central part of Santorini, creating a huge basin of 83 square miles, called the Caldera. During the Persian Wars, the island sided with the Athenian Alliance. Later Santorini came under the rule of Sparta.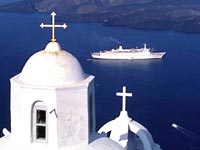 In the Byzantine Era and under the rule of Constantinople, Santorini adopted the Christian faith and appointed its own bishop and organized its Christian church. In 1204 AD, after the Fall of Constantinople, the Venetians took over the island and it was during this time that the island was named Santorini, after Santa Irini. In 1207, Santorini was handed over to the Duke of Naxos and although it was taken by the Greeks for a short while, it remained under Venetian Rule until 1579, when the island came under Ottoman Rule. It had relative autonomy during this period, to the point that Santorini had an elected delegate who represented the Santorinians before the Turkish Authorities. The island finally gained its independence in 1821 and joined the Greek Republic in 1830 with the signing of the London Protocol.

In 1956, another severe volcanic eruption caused much destruction on Santorini, but the island has managed to re-build and to develop into one of the most popular and well-loved vacation spots in the world.