SANTORINI STUDIOS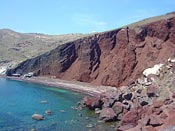 Think of the most famous image of the Greek Islands and what immediately come to mind is the irresistible sunset of Santorini. There is no place like it in the world, with bright white houses skirmished on reddish cliffs, charming stone-paved alleyways that wind through traditional villages, magnificent archaeological sitesand museums that reveal a sophisticated ancient civilization, beaches with colourful volcanic sands, and the mysterious volcano. Nowhere else can one see so many spectacular features on one small island. If you haven't been to Santorini Greece yet, perhaps its time you planned your next vacation here.

Organizing you holidays in Santorini Greece is very easy, beginning with accommodation. The first step is to decide what type of accommodation you require. The island has a wide variety, ranging from hotel rooms and suites to apartments and studios. The latter, Santorini studios, are probably the most versatile and convenient type of accommodation. Santorini hotel studios offer the roominess and comfort that aren't offered in units that have separated areas. The open-plan design of Santorini studios provides guests with bright and airy spaces to spend their vacation. Most hotel studios in Santorini Greece include spacious verandas or balconies from which guests can relax and admire the sea or Santorini sunset view.

Once you have selected Santorini studios for your accommodation during your holiday, you should then choose the location in which you would like to stay. Santorini is an astonishing island from coast to coast, with amazing historical sites, splendid beaches and charming Cycladic architecture. If you are a beach lover and like lying on the sand soaking up the sun's rays, we recommend the seaside resorts of Kamari, Perissa and Akrotiri, all of which provide marvellous Santorini studios. These areas are close to the ancient sites of Thira and Akrotiri and also offer a wide range of entertainment venues. On the western side of the island are the popular resorts of Fira, Firostefani, Oia and Imerovigli, all of which are located on the cliffs above the Caldera and provide a spectacular view of the volcano and the sunset and some of the best gourmet restaurants. In these holiday spots there is an abundance of Santorini studios to satisfy your accommodation needs.

You will find the busiest areas of Santorini Greece are the capital Fira, and the settlements of Imerovigli, Oia, and Kamari, while the villages of Firostefani, Akrotiri and Perissa are quieter and perfect for those who want to avoid the tourist crowds. Therefore, you can select the location of your Santorini studios depending on your holiday style and taste. Some studios in Santorini can accommodate up to four persons and are ideal for families and groups of friends, while there are other Santorini studios for two persons that are elegant honeymoon accommodations.

Whether you are travelling to the island alone, with your significant other, your family or your friends, Santorini Greece has something spectacular for everyone!