SANTORINI ISLAND GREECE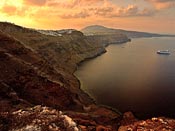 Have you seen dozens of images of Santorini Island Greece and dreamed of experiencing them in real life? Now you have the chance to witness the true beauty of the island. By spending your holidays this year in Santorini Greece, those picture-perfect images will become reality.

Santorini Island Greece is perhaps the premier vacation spot in the whole of Greece, attracting thousands of travellers from all over the world. There are several reasons why Santorini is considered such a wonderful destination. First of all, its excellent tourist infrastructure enables it to host thousands of visitors at a time, in superb Santorini hotels, rooms, apartments, suites and villas. Santorini Island Greece has the capacity to accommodate travellers of all styles and budgets, offering luxury hotels and suites, as well as inexpensive rooms to let. Gourmet restaurants, exciting nightlife venues and an abundance of travel agencies and car rental companies are available to facilitate those vacationing on the island.

In addition, the beaches on Santorini Island Greece are some of the most unusual and attractive beaches in the Cyclades cluster. Many of them have volcanic properties, with colourful sand and dramatic cliffs, such as the Red and White beaches near Akrotiri, and the grey and black beaches in the settlements of Kamari, Perissa, Perivolos and Monotlithos. Beneath the cliff of Oia Town are the beaches of Amoudi and Armeni, which are very picturesque and cater for the vacationers on the western side of the island. Along the northern coast of Santorini Island Greece are the beaches of Paradissos, Baxedes and Vourvoulos, which are lovely and ideal for those who want to avoid the tourist crowds.

Sightseeing on Santorini Island Greece is a magnificent experience, as two of the jewels of Ancient Greece are located here. Ancient Thira, which is situated on a hill above Kamari and Perissa, is an ancient city where visitors can see the remains of houses, a theatre, a stoa, sports facilities and sanctuaries. The panoramic view from Ancient Thira is amazing. The prehistoric settlement of Akrotiri is probably the most celebrated site on the island, and is the Greek equivalent to Pompeii. It is a whole settlement in tact, with roads, houses, stairs and an ancient sewage system that was covered in lava after a tremendous volcano eruption in the 17 th century BC. Some historians believe that Akrotiri is connected to the Lost Continent of Atlantis. In Fira and Oia, one should visit the wonderful museums, while a boat trip to the small volcanic isles opposite Santorini Island is a must. Wine aficionados can go on a wine tasting tour at the estates in the inland villages of Santorini. Details about the sites and attractions are available in reliable online Santorini Island travel guides.

While planning you holiday on Santorini Island Greece, you will easily find the accommodation that suits your needs and style. For travellers who want the best during their vacations, there are luxury hotels and posh resorts to choose from. For those on a tight budget, inexpensive hotels and rooms to let are available. A superb selection of studios, suites, apartments and villas are also ready to accommodate the island's visitors. Details about accommodation in Santorini are available in reliable online Santorini Island travel guides.