SURROUNDING ISLANDS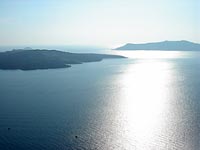 Opposite Santorini Island are 3 small volcanic islands: Thirassia, Palea Kameni and Nea Kameni. The islands were created by a series of volcanic eruptions in the area. Thirassia, the only island of the three that is inhabited, is quite picturesque with its small port and whitewashed houses.

The three islands are characterized by steep cliffs and they have few beaches. It is about a 30-minute walk from the foot to the rim of the volcano, the earth is warm and the smell of sulphur is very intense.

Visitors often enjoy the waters surrounding the isles, as they are said to have therapeutic properties, especially the waters around Palea Kameni, which reach 45 degrees Celsius. This area is called Zestes Piges (Hot Springs). Tour boats depart from the port just below Oia (Ia) for cruises to the islands.