SANTORINI LUXURY HOTELS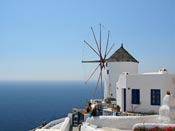 Do you demand only the best accommodation during your vacation? On the island of Santorini Greece, you will find some of the finest hotels in the world, where staff attend to your every whim. Luxury facilities, superb services and lavish suites and hotel rooms, providing guests with the kind of holiday that will remain etched in their mind forever.

While staying at Santorini luxury hotels, guests have the opportunity to choose from a wide selection of accommodations, from elegant suites and rooms to exquisitely decorated apartments and bungalows. Santorini luxury hotels are also comprised of special facilities and amenities to make sure that their guests are pampered, including hot tubs or Jacuzzis, champagne and fruit upon arrival, and designer toiletries, to name just a few, which add a little something extra to their guests' holiday experience.

At Santorini luxury hotels, communal facilities are designed to ensure that visitors have a relaxing and carefree stay. Facilties, such as spas, Jacuzzis, steam rooms, and swimming pools, not to mention posh bars and gourmet restaurants are provided. Santorini luxury hotels are famous for their impeccable service, with trained staff members that are polite, efficient and eager to assist guests and to satisfy their needs.

You will find Santorini luxury hotels throughout the island, as it is a favorite destination for the rich and famous of the world. There is an abundance of luxury hotels in Santorini in the villages that overlook the Caldera, more specifically Oia, Imerovigli, Fira and Firostefani. You will also find wonderful Santorini luxury hotels in the settlements of Kamari, Perissa and Akrotiri, all of which are located on the unique colourful beaches and close to some of the most precious ancient sites in Greece. Whatever location you choose, a marvellous Aegean Sea view is provided.

Luxury hotels in Santorini Greece are perfect for travellers who crave relaxation in a setting fit for royalty, with lavish facilities and hotel personnel that are at their disposal throughout the day. Santorini luxury hotels are beloved getaways for many VIPs and celebrities who come to the island to enjoy the cosmopolitan aura. With one of the most breathtaking views in the world, some of the most unique beaches in Greece, excellent gourmet restaurants and stylish nightlife venues, and the superb ancient sites, a holiday in Santorini is an absolutely unforgettable experience!