I love Santorini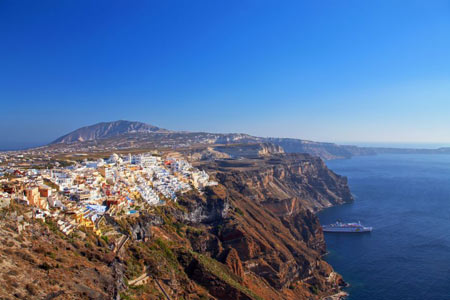 Who hasn't heard of Santorini Greece, this beloved island in the Aegean Sea with the majestic aura and the dramatic scenery?

Santorini Greece was brought into the spotlight of the island destination scene due to its grandiose volcano! The soul-stirring setting of the steep Caldera lined with magnificent whitewashed cubical houses sparkling like jewels on the dark volcanic rock seems to have jumped out of a story book and induces unprecedented feelings when seen from up-close!

Comfortable rooms with smashing vista making your Santorini vacation a real pleasure!

Find out the 8 Top-Reasons why your next trip ought to be on Santorini Greece and experience unique vacations with long-lasting impressions!
1. The Santorini Volcano and the Mysterious Caldera
One of the highlights of Santorini Greece and the number one reason for a trip to the island is the world-famed Santorini Volcano and the mystifying Caldera formed by its massive eruptions, now being an amazing backdrop for dreamy vacations. The highest point of the Caldera from the water surface is up to 300 metres and when you stand by its rim it feels like standing at the edge of the world. It's no wonder why both the Volcano and the Caldera are the stars of all Santorini photos collections!

Make sure that you take one of those boat trips around the volcano and get to know the volcanic islets and you will also be able to watch the sunset while floating in the middle of the Caldera.

At the steep-walled Caldera you will find numerous full-service hotels and private luxury Santorini Villas perched on its cliffs, offering enchanting views of the volcano in the middle of the Caldera that are impossible to forget.
2. Soul-stirring Sunset Views
There are literally very few Santorini photos not depicting the breathtaking sunset hueing the sky with its amazing colors. The enchanting views of the sun slowly merging into the Aegean Sea are featured every now and then on magazine and tour guide covers as one of the most romantic qualities of the Island. Various Santorini Greece tour operators organize relaxing late-afternoon trips at the Caldera giving you the chance to live the amazing experience of the unique Santorini Sunset not only with your partner but also with family and friends.

People from all over the globe visit Santorini and spend long afternoons sitting on pavements or even standing at some corner of Oia, Fira, Imerovigli -and so many other preferred spots on Santorini Greece- waiting for the sunset that is bound to remain etched in their mind forever. Others escape to Santorini Greece to exchange vows as the sun goes down and plan their wedding in luxury hotels including Santorini Villas and Suites lining the Caldera rim. It's a unique way to give their wedding an originally romantic touch and also be exclusively pampered during their honeymoon!
3. Impressive Santorinian Architecture
One of the most amazing features of Santorini Island making it stand out among all its rivals is its impressive building architecture with obvious influences of the centuries gone by.

If you decide to sail to Santorini you will be stroke speechless by the beautiful, cubic houses sprinkled on the Caldera rim, as the ship approaches the port of Athinios. The contrast of the sparkling white of the houses to the black volcanic rock is incredible. As you approach, you will also notice countless blue domed churches with the intricate belfries, dedicated to saints by sailors who came back to the Santorini safe, after long journeys away from home.

Take a walk in the wonderful settlements of Oia, Fira, Imerovigli and many more picturesque Santorini villages and you will come across 18th century Venetian style manors many of which used to belong to captains. Some of them are renovated and turned into atmospheric bars and restaurants with fine cuisine and wonderful Caldera views.

All around various Santorini settlements you will come across the renowned traditional cave houses, which are dwellings carved into the volcanic rock. Originally, those caves used to serve as workshops for the production of wine, pilgrim sanctuaries and so on, but over the years started to be restored and nowadays make wonderful cave dwellings giving your vacations an authentic traditional twist. Cave house hotels usually feature dome-like roofs, while on top of that, they ensure a great atmosphere as their carved-into-the-rock chambers are agreeably cool even during the hottest summer days. More about Santorini Hotels.
4. Romantic Weddings & Luxury Honeymoons
Santorini Greece is by definition a paradise on earth for couples who just can't resist the experience of a romantic wedding ceremony followed by a luxuriating honeymoon in first-rate luxury hotels providing exclusive honeymoon suites and private Santorini Villas!

Could you possibly think of anything more enchanting than a perfectly planned wedding and a sun-kissed honeymoon, tailored to your personal desires and catered to the ultimate detail? And would you say no to the lavish amenities, fine facilities and outstanding service delivered to newly-weds? As, you are bound to say "I do" to the Santorini Wedding and Honeymoon temptation, check out for wedding and honeymoon packages offered by credible Santorini travel agents.
5. Daily Boat Trips for wanna-be explorers
There is no way that you visit Santorini and go back home without Santorini photos of the world-famed volcano. Cruises around the Caldera and volcanic islets of Thirassia, Nea Kameni and Palea Kameni are a must and will definitely become the highlight of your Santorini vacations.

Experienced travel agents and tour operators organize lovely Santorini cruises, where you will not only have the chance to hike up the volcano and enjoy the supreme Caldera views, but you will then enjoy a swim in hot springs! It is common that during the cruises you are treated to small bites and Santorini wine and then you have all the time you need to relax and enjoy the incomparable Santorini sunset on your way back.

If you want some privacy for you and your partner family or friends you may as well charter a boat and enjoy your cruise at your own pace spending quality time with your beloved ones.
6. Coloured Beaches & Water Sports for fun-filled moments
The volcanic activity of Santorini Greece has contributed to the formation of an impressive array of unique beaches, which will be the highlight of your vacations. The endless Black Beach stretching from Monolithos all the way down to Kamari, Perissa and Perivolos is your best bet, either you are vacationing with friends or family. There are sunbeds and umbrellas to hire, as well as water sports ranging from pedal boats to extreme sports and scuba diving. Not to mention the Greek-style tavernas serving fresh fish and seafood, as well as other delicacies.

Further down, in the southern tip of Santorini -very close to the settlement of Akrotiri- you will come across the Red Beach with its dramatic red steep cliffs creating a soul-stirring background and a rich sea bottom to explore, so those of you who are into snorkelling will definitely have good fun! The beach offers umbrellas and sunbeds for hire, as well as tavernas into the rock to enjoy your meal after your swim.

Another Santorini beach well worth a visit is the White Beach in the south part of the island, which can be exclusively approached by boat or on foot -for the daring ones. It is famed for the steep whitish cliffs surrounding it, adding to the lunar-like setting.

Apart from the aforementioned well-known beaches you will come across a plethora of equally impressive Santorini Beaches, so get ready to explore them all!
7. Dining & Cuisine
Trying the Santorinian cuisine is a whole different experience than what you can possibly imagine. There is a plethora of locally grown products turned into sumptuous dishes and delicious bites in some of the finest Santorini restaurants that will spellbind your taste buds forever and will thrill you with their magnificent caldera and seaside vista!

Some of the local products used to prepare special dishes of a Mediterranean-oriented cuisine are cherry tomatoes, turned into delicious tomato fritters and used in salads -either fresh or sun-dried, split peas known as fava, exclusively cultivated in Santorini, pickled capers often used in a variety of fresh salads, including the Greek one, and the white aubergine with its sweet and juicy flesh! Try them all and don't forget to accompany your meal with a couple of glasses of Santorini wine.
8. Wine Tasting
As Santorini stands out for its wine tourism around Greece, you may want to take a tour around the wineries, which are open to guests and will welcome you to try wine during their wine tasting sessions.

In Santorini Greece you will taste some of the best quality Greek wines, exclusively produced in the famous vineyards, such as Santo Wines, producing the renowned Vinsanto, as well as many other producers, concentrated in the inland villages of Santorini. Due to the particular weather conditions and the volcanic terrain of Santorini, wines have a uniquely special taste you really shouldn't miss trying.