GENERAL INFORMATION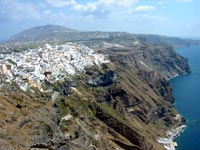 Thousands of visitors come to Santorini every year just to admire one of the most majestic sunset views in the world. The island has become a meeting place for romantic souls who have found a vacation destination that can only be described as "the poetry" of nature.

Others visit Santorini for its exquisite archaeological sites, including the famous ancient city of Akrotiri, considered by many to be the last remaining piece from the Lost Continent of Atlantis, which was "swallowed" by the sea due to a volcano eruption 3,500 years ago, as well as the magnificent archaeological site of Ancient Thira, the splendid Cathedrals and the Museums (Archaeological, Prehistoric, Folklore and Maritime).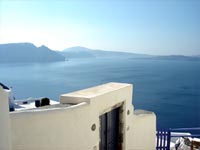 On Santorini, you will experience the vacation of a lifetime, as no other island in the world offers such contrasting colours and impressive scenery. Stark white villages built on dramatic grey and red cliffs, red and black sandy beaches, and a mysterious volcano. Nothing can prepare you for the uniqueness of Santorini, Greece.

The "black pearl of the Aegean" welcomes you to a world of enigmatic beauty.