Santorini Hotels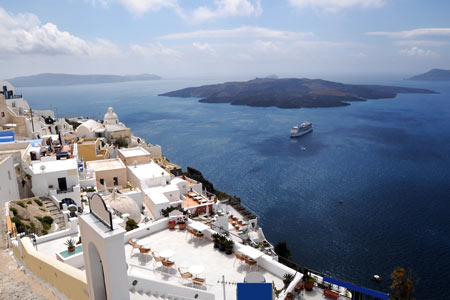 Dreaming of an idyllic haven where you and your significant other can spend moments of unwinding and storybook romance in a spectacular setting?

Santorini Greece is the place you are looking for!

In the United-Hellas Santorini Hotels Directory the options for luxury hotel Santorini accommodation are numerous and have been compiled with painstaking attention to exceed your highest expectations!

Are you among the eclectic ones looking for ultimate relaxation in an upscale location? View your top-notch Santorini accommodation options!

All hotels in Santorini Greece which master the art of honeymoon accommodation spoil you with their lavishness and style and offer the privacy, comfort and ease you are seeking of, for an ultimately marvellous honeymoon in one of the most cherished locations in the world!

What more could you ask for than spending your honeymoon in a luxury hotel in Santorini offering first rate amenities and incomparable service for an ultra relaxing stay? Or is there any place better to get away from it all and merge into tranquillity and relaxation with your beloved ones?

In the United Hellas Santorini Hotels Directory you may select among top-notch hotels with indoor and outdoor jacuzzis, spa and wellness centres, private sun terraces and swimming pools with amazing views of the Caldera and the volcanic islets, the deep-blue Aegean Sea and the fabulous Santorini sunset. True, we are talking about incredible leisure settings ideal for a unique and ultimately relaxing vacation and honeymoon!

More often than not, hotels in Santorini Greece include lovely restaurants ideal for candlelit dinners for two, where you will relish the most amazing Mediterranean dishes inspired by local recipes and prepared with quality ingredients. If you have decided to step into marital bliss in the sunset at the ample space of a luxury hotel terrace, keep in mind that most Santorini hotels will be glad to plan your wedding and reception at their restaurant catering to your personal taste and preferences to the last detail!

Santorini Hotels meet the expectations of all you eclectic guests who desire a bit of pampering during your vacations in Santorini Greece. Check out our Santorini Hotels Directory to select the luxury hotel in Santorini that lives up to the ambiance you desire and get ready to set off for the best trip ever!