NAXOS HOTELS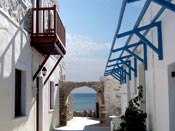 Considered by many to be one of the finest holiday destinations, Naxos Greece is a versatile and multifaceted island. Surrounded by the deep blue waters of the Aegean, Naxos is the largest of the Cyclades Islands, hosting a myriad of visitors from all over the world. It is one of the most charming for sure, with beautiful landscapes, superb beaches, picture-postcard villages, and some very significant historical sites.

The island is the perfect holiday spot for all types of visitors, as it has the ability to satisfy all tastes. This means that the tourist infrastructure of Naxos Greece has an amazing range in regard to style and budget. As far as Naxos entertainment venues are concerned, there are cafes, bars and clubs that cater to every musical taste. Apart from dining and nightlife, the island provides an endless supply of Naxos hotels that cater to a wide range of visitors. On Naxos Island, visitors are provided with accommodation for all budgets, from luxury Naxos hotels to that provide a plethora of extra amenities and lavish facilities to budget Naxos hotels that offer comfortable hotel accommodation at low prices.

If you prefer staying in popular tourist resorts, where the streets are busy with people having fun while on holiday, we suggest booking your accommodation in Naxos hotels in Naxos Town (Chora) and nearby Agios Georgios. There are also wonderful Naxos hotels located in the beachside settlements of Agios Prokopios, Agia Anna, and Stelida, which have a good amount of nightlife and marvellous beaches, and are located close to the capital town. The inland village of Agios Arsenios provides Naxos hotels with a tranquil environment that is ideal for relaxation. Agios Arsenios is situated close to the beaches of Agia Anna and Plaka.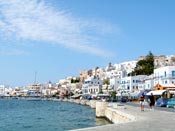 One attractive feature of Naxos hotels is their location, close to stunning beaches and surrounded by a beautiful natural setting, creating a paradise-like holiday spot. Naxos beaches are considered some of the best in the Cyclades, many of them long and sandy, offering both crowded parts where the party-goers sunbathe, as well as secluded spots for those who require a more serene location. There are hundreds of Naxos hotel at walking distance from these amazing beaches; some of which even line the sandy shores. Most luxury Naxos hotels have their own private beach, where extra facilities and amenities are provided for their guests. There are Naxos hotels and complexes that include self-catering apartments and studios, which offer guests privacy and independence. These are often preferred by families who require all the comforts of home.

If you are vacationing with friends, Naxos has an abundance of entertainment venues and hotels that cater to young people. If you are travelling in a group, we recommend enquiring at Naxos hotels that provide fully-equipped apartments and studios, or even perhaps a villa.

Naxos is also a wonderful honeymoon destination, where couples can stroll on beautiful beaches, have a romantic meal in posh restaurants, and stay in elegantly-decorated honeymoon suites in Naxos hotels.

Whatever your travelling company, Naxos Greece is a marvellous vacation destination. While you are thinking about the location of your next holiday, why not consider Naxos Greece, an island full of life, history and natural beauty.