NAXOS ROOMS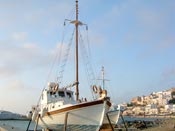 Naxos Greece: an island that offers everything one could possibly ask for from an Aegean Sea paradise: white cubic houses that gleam in the sun, splendid beaches with crystal clear waters and soft sands, superb historical sites that date back to the Prehistoric Era up till present times, traditional villages that offer a taste of the authentic Greek Islands, and a tourist infrastructure that is second to only a few other places in Greece. Can you think of a better place to spend your next holiday than on this Eden in the heart of the Aegean?

Planning you accommodation in Naxos Greece is the first step to an enjoyable and relaxing holiday. There are countless Naxos hotel rooms for rent throughout the island, ranging from inexpensive, budget Naxos rooms to luxury rooms in Naxos hotel resorts. This enables people from all over the world and all walks of life to visit Naxos, creating a unique melting pot of international vacationers.

Due to the popularity of the island, there are Naxos hotel rooms in many styles to choose from, depending on your needs. Double Naxos rooms are probably the most standard, accommodating couples or two friends. Naxos rooms for three or four persons are ideal for larger groups or families. Your options are limitless in regard to Naxos hotel rooms and a hotel guide of the island can give you details about what is available.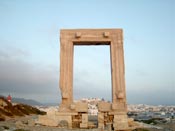 One thing is sure: wherever you stay in Naxos, you are guaranteed easy access to breathtaking beaches. Hotel rooms in Naxos Town and Agios Georgios are close to the beaches of Grotta and Agios Georgios. If you are renting Naxos rooms in Agios Prokopios or Agia Anna you will be next to two of the best beaches - homonymous with the settlement - in the Cyclades. Those renting Naxos rooms in Agios Arsenios are a short distance from Agia Anna Beach and Plaka Beach, while visitors staying in Stelida either swim at the village beach or go to the nearby beaches of Agios Prokopios or Agios Georgios.

In addition, wherever you are renting your Naxos hotel rooms, you have easy access to historical sites in both inland villages and seaside resorts. The island is full of Venetian castes and towers, ancient temple ruins, and beautiful churches, as well as areas of great natural beauty which are ideal for nature walks and trekking. Don't miss out on experiencing this amazing island up close; book your Naxos hotel rooms today!