NAXOS STUDIOS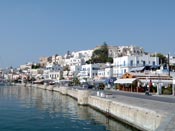 Naxos is a typical picturesque Greek Island, the kind that you see in the picture-postcards, with whitewashed houses, quaint churches, stunning sandy beaches, breathtaking natural scenery, and amazing nightlife. If this is the image of your dream vacation destination, perhaps you should consider Naxos Greece for you next holiday.

First off, you should book your accommodation in Naxos Greece. There is a great variety of accommodation available on the island, such as rooms for rent, hotel rooms, apartments, and studios. The latter is a great choice is you prefer something roomy and bright. Naxos studios are especially comfortable, and usually designed in an open-plan manner, combining sleeping and living areas, and allowing for more space to move around. Adding to the comfort and spaciousness, the majority of Naxos studios have large balconies or verandas that offer superb views of the Aegean and the coutryside.

Another important factor in selecting accommodation is location. On the island of Naxos, you will always be surrounded by beauty. The island has some of the best beaches in the Aegean region, lush landscapes - which is an unusual feature for Cycladic Islands - and charming traditional villages. Your choice of location for Naxos hotel studios will depend on the type of vacation you want. Many travellers prefer staying in popular tourist resorts that are brimming with excitement, such as Naxos Town (Chora) and the holiday hot spot of Agios Georgios. Both of these locations offer a plethora of Naxos studios and easy access to nightlife venues and beaches. On the other hand, some travellers are partial to quiet holiday resorts, including Agios Arsenios and Stelida, or maybe something in between, such as the villages of Agia Anna and Agios Prokopios, which boast two of the finest Naxos beaches. You will find wonderful Naxos hotel studios here, catering to visitors who prefer a serene and relaxing setting.

Beach enthusiasts will be astonished by the marvellous beaches located on Naxos Island. Accommodation near Naxos beaches is abundant, providing excellent Naxos studios for all budgets and needs. A good number of studios in Naxos Greece are designed especially to accommodate families or large groups of up to 4 persons. Even so, Naxos studios can be the ultimate honeymoon accommodation: bright, breezy, and private. So come to Naxos Greece, the most versatile and pleasant island in the Cyclades cluster.