NAXOS SUITES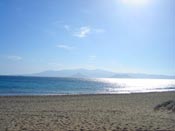 Greece is one of the finest locations for a honeymoon, with romantic sunsets and stunning golden beaches. The island of Naxos has been a honeymoon favorite for years, offering excellent accommodation and special care to all newlywed couples. If you are planning your honeymoon in Greece and are trying to decide on the best destination, perhaps Naxos is your style.

The island of Naxos Greece possesses an extremely well-developed tourist infrastructure, making it one of the most convenient and comfortable places to visit in Greece. A variety of types of accommodation is offered, including superb Naxos suites, which are ideal for newlyweds who want to cherish this special trip for the rest of their lives. Naxos luxury hotel suites can be found in most hotels or complexes, decorated with style, taste and a Cycladic-island twist. Naxos honeymoon suites are designed especially for the occasion, with extra amenities such as veiled, four-poster beds, Jacuzzi tubs, champagne, fruit baskets, turn-down service, and more.

Even though Naxos suites are preferred by honeymooners, they are just as popular with couples who come to the island for a romantic holiday. Other Naxos luxury suites aficionados include travellers who have a taste for lavishness, elegance and extra special service.

Visitors will have no trouble finding Naxos suites because they are available throughout the island, including both seaside settlements and traditional mountain villages. Location plays a major role in the success of a holiday trip. If you want to experience the exciting hustle and bustle of the tourist hot spots, Naxos Town and Agios Georgios are ideal. If you want to avoid crowds and spend time with your loved one in a quiet holiday resort, Agios Arsenios and Stelida fit the bill. If, though, you prefer a bit of both, Agios Prokopios and Agia Anna are where you should book your Naxos hotel suites.

Whatever the location and whichever the type of accommodation, if you have selected Naxos as your holiday destination, you are in for the vacation of your life!