NAXOS GREECE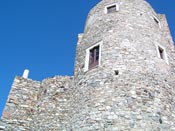 Of all the Cycladic Islands, Naxos is one of the most typical ones, a perfect specimen of a Greek island. Quaint whitewashed house with blue shutters, cobble-stoned streets and small boutique shops, beautiful churches, endless sandy beaches, and an amazing upbeat atmosphere; all of these are characteristics of Naxos Greece.

Naxos is an excellent vacation destination for people from all around the world. Indeed, it hosts thousands of visitors every year and consequently has a fabulous tourist infrastructure that caters to all types of travellers. Probably one of its finest attractions is its beaches. According to many of its visitors, Naxos beaches are the best in the Aegean, with clean blue waters and soft, golden sands that beckon holidaymakers for hours of sunbathing and swimming, including Agios Prokopios, Agia Anna, Agios Georgios, Plaka, Stelida, Grotta, Mikri Vigla, Abrami, Apollonas, Agiassos, Kalandos; the list is endless. There are all kind of beaches in Naxos Greece, quiet and secluded ones for beach-goers who want their own private space of heaven, and popular, lively ones for those who want to mix and mingle, and party at the stimulating beach bars. Many beaches in Naxos Greece have water sports facilities for the more adventurous visitors. Details about the best beaches can be found in a good online Naxos travel and vacation guide.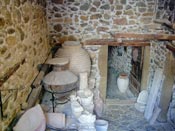 Sightseeing is another special feature of Naxos Island Greece. Exploring the island is a must during your stay. In the capital of Naxos Town, you should definitely visit the Castle, the ancient Portara Gates, the Church of Panagia Vlacherniotissa, Bazeos Tower (located just outside the capital), and the wonderful museums. Apollonas and Melanes are the locations of the island's giant stone-carved kouroi. In Melanes you can also visit the towers, while in Apeirathos we recommend stopping at Zevgoli Tower and the village's museums. In Glinado, you have the opportunity to visit the magnificent Ancient Site of Iria, as well as the Bellonia Tower. Lastly, the settlement of Sagri is home to the impressive Sanctuary of Demetra and Apollo, as well as some lovely churches and castles. A tour of the very picturesque villages in Naxos Greece is also a wonderful treat.

A holiday in Naxos Island Greece will enable you to experience the genuine Greek lifestyle, with all the comforts of a modern holiday destination. The island possesses an abundance of accommodations that satisfy all budgets and needs. Naxos accommodations range from self-catering apartments and rent rooms to luxury hotels and resorts. We recommend checking out a reliable Naxos travel and vacation guide to find out all about touring and accommodation in Naxos Greece.