NAXOS BEACHES


INFORMATION ABOUT NAXOS BEACHES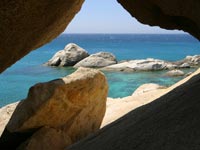 The island of Naxos has an abundance of wonderful beaches. There are Naxos beaches for all types of visitor. Some are organized and offer a wide range of water sports facilities. Most Naxos beaches have restaurants and cafes located nearby, where visitors can have a meal or a refreshing drink after a day under the stimulating Naxos sun.

The most popular Naxos beaches are situated on the western side of the island, south of Naxos Town and Port. Agia Anna Beach and Agios Prokopios Beach are two favorites. Agia Anna is lined with cedar trees, while Agios Prokopios has pool -like waters. They are long and sandy, full of umbrellas and chaise longues. Nearby is the lovely beach of Stelida.

Below Agia Anna Beach and Agios Prokopios Beach are the seaside settlements of Maragas and Plaka, where you will find beautiful stretches of white sand, lined with beach bars and tavernas. Plaka Beach is frequented by nudists.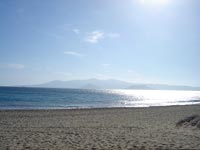 Right next to Naxos Town (Chora), is Agios Georgios Beach (also known as St. George Beach). Its close proximity to Naxos Town make it very popular. Agios Georgios Beach is organized and offers a good selection of water sports activities, as well as tavernas, cafes and beach bars.

The beaches of Mikri Vigla, Kastraki and Agiassos, located on the southwestern side of Naxos, have pristine sands and crystal-clear waters. Travelling from southern Naxos, up the eastern coast, you will find quiet Kalandos Beach, cedar-lined Psili Ammos Beach and a series of coves known as Moutsouna Beach. The pretty, pebbly beach of Lionas, on the northeastern side of Naxos, is a good place to have a peaceful swim. Apollonas Beach is a magical spot, characterized by small picturesque coves and beautiful blue waters.