HOTEL NAXOS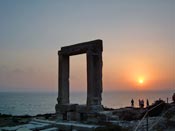 The beautiful island of Naxos Greece is a fabulous vacation spot. It is a favorite destination for all types of holiday-makers from throughout the world, as it is a multifaceted place that satisfies every need and preference. The strong Cycladic character of the island make it a very picturesque place, with whitewashed houses and narrow winding alleyways in its scenic villages, creating an extremely inviting island, where visitors can spend an unforgettable vacation.

If you want to book your accommodation in Naxos Greece, you have an extensive selection to choose from. A good Naxos hotel will list your options, according to class and location. You can easily find the ideal hotel in Naxos that will provide you with a plethora of organized facilities and services. On the other hand, you can book your accommodation in apartments, studios and rooms for rent located throughout the island. There is such an abundance of Naxos hotel accommodation available that you will find making reservations a breeze, even during the high tourist season.

While searching for your Naxos hotel, first decide which is the most suitable location for your needs. Would you like to stay in the most popular seaside resorts that are bustling with life, or do you prefer staying in most tranquil settings where you can enjoy some much deserved peace and quiet. If you are partial to the first type of holiday destination, we recommend finding a Naxos hotel in the capital Naxos Town (Chora) or in the nearby settlement of Agios Georgios. Both offer access to wonderful beaches and lively nightlife venues. If you prefer the second type of vacation resort, we suggest booking your accommodation in a Naxos hotel in Stelida or Agios Arsenios. For those who want something in the middle, the settlements of Agia Anna and Agios Prokopios are ideal. They have two of the best Naxos beaches and a fair amount of bars and clubs by the sea.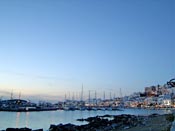 Having made up your mind about the location, you can decide which type of Naxos hotel best suits your budget and needs. Naxos hotels provide a plethora of excellent services, which differ according to the their class and type of accommodation you have booked. A luxury Naxos hotel would provide lavish facilities and high-quality services, such as spas, sports facilities and gourmet restaurants. A budget Naxos hotel may include a number of facilities to cater to its guests needs. Self-catering apartments and studios often include their own kitchen and basic service. No matter which type of accommodation you require, you will find it in Naxos Greece.

A good idea would be to look for at some options in a quality online Naxos hotel guide, which would outline what is provided depending on the class of each hotel. Apart from finding a hotel in Naxos, you will also be provided with additional information about the island, its beaches and sightseeing. To ensure a fun-packed and relaxing holiday in Naxos Greece, it's best to be informed and organized.