HOLIDAYS IN MYKONOS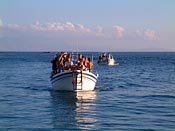 Are you trying to decide where to go on vacation this year? Why not spend your next holidays in Mykonos Greece, the most adventurous, stimulating and relaxing island in the world.

From every corner of the globe, thousands of vacationers arrange their holidays in Mykonos Greece every year. There are so many features of Mykonos that attract visitors, such as beautiful sandy beaches, charming Cycladic-style architecture, stunning views, and the most exciting nightlife in Europe.

If you are a party aficionado, then holidays in Mykonos are right up your alley. Hundreds of cafés, bars, beach bars and clubs make Mykonos nightlife unlike anywhere else in the world. The partying starts from early afternoon at the beach bars and lasts until very late at night in the clubs, where people from all walks of life dance, drink and have fun.

The beaches are another reason why so many people choose to spend their holidays in Mykonos Greece. The island has beaches of all kinds, ranging from the very popular beaches that are packed with sunbathing bodies to the quieter beaches that are ideal for those who want to just relax and avoid the crowds.

Your holidays in Mykonos Greece wouldn't be complete without visiting the island's sites. Mykonos Town, the capital of the island, is very charming and ideal for a nonchalant stroll. The town also possesses wonderful museums, lovely churches and the traditional windmills. Little Venice, also located in the capital, is a picturesque port with colourful balconies and a marvellous sunset view. The scenic villages are also a must see during your holidays in Mykonos. Traditional Cycladic architecture and winding alleyways are perfect for exploration. In the village of Ano Mera, you can visit the Monastery of Tourliani, while in Platis Gialos there are 3 towers from the Hellenistic Era. The island of Delos is a protected archaeological site, where visitors can admire well-preserved ancient buildings.

If you are looking for accommodation on the island, we recommend searching in a good online Mykonos travel guide. You will be provided with quality hotels, apartments, rooms, studios and suites where you can stay during your holidays in Mykonos Greece. Some of the best resorts include Mykonos Town, Ornos, Platis Gialos, Panormos, Amigdalidi, Glastros, Agios Sostis, Psarou, Agios Stefanos, Tourlos, Agia Sofia, and Agii Apostoli.