MYKONOS ISLAND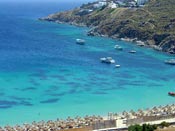 Mykonos Island is the diamond of the Cyclades, the most charming and exciting holiday destination of the Greek Islands. For many, it is a party island, ideal for winding down and having fun. For others, Mykonos Island Greece is a haven from the stress of everyday life, a place to relax and to think of nothing but sun and sea.

Whichever type of vacationer you are, Mykonos Island is an ideal holiday spot for you. Most famous for its spectacular nightlife, with clubs and bars that stay open till morning, where people dance until they drop, Mykonos Island is a favorite for the partying crowd. This doesn't mean that Mykonos Island is not a great place for those who are looking for a peaceful spot to spend their vacation. A short distance from the hustle and the bustle, one can find wonderful serene locations, where all five senses are treated to a tranquil atmosphere.

While on Mykonos Island Greece, the first thing most vacationers do it hit the beaches. With soft golden and white sands, and calm deep blue waters, the beaches on Mykonos Island are astounding, even to the hard-core beach-goer. The popular beaches in Mykonos are frequented mainly by the young, cosmopolitan crowd. These beaches are meeting points for the visitors of the island. Other beaches on Mykonos Island are lovely and quiet, offering small pieces of paradise where one can reflect. A good online Mykonos travel guide will provide you with details about each beach for your to decide which ones suit you best.

Although Mykonos Island is not famous for its sightseeing, there are wonderful museums, churches and windmills, not to mention the charming area of Little Venice, all of which are in the capital, Mykonos Town. Opposite Mykonos Island is the small isle of Delos, a jewel of Ancient Greece, where visitors can admire a city of sanctuaries, temples, a theatre, houses, a stoa, sports facilities, and more. Only certified tour boats can go to Delos, so you should acquire a ticket the moment you arrive on Mykonos Island. Further sightseeing information in settlements such as Platis Gialos and Ano Mera, can be found in a Mykonos travel guide.

For your accommodation needs, Mykonos Island Greece has a wide variety of hotels, apartments, suites, studios and rooms for rent that cater for all budgets. There are splendid luxury hotels and large holiday resorts, as well as economy rent rooms and apartments. Choose your accommodation on Mykonos Island carefully, depending on your particular needs.

Waste no more time and start planning your next vacation to Mykonos Island Greece!