MYKONOS GREECE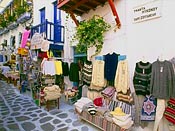 When you think of island paradises, do you imagine white cubic houses with blue shutters and endless beaches with deep blue waters? If so, you are dreaming of Mykonos Greece, the gem of the Aegean Sea.

The island of Mykonos Greece is one of the prime holiday destinations in the world, host to thousands of visitors every year. Its fame is due to a number of reasons. First and foremost is its amazing nightlife, which attracts all types of travellers; from the jet set and movie celebrities to common vacation-makers. The exciting atmosphere of Mykonos Greece is second to none, with lively conversation and stimulating parties taking place throughout the island. There is entertainment for everyone, so you should consult a good Mykonos Greece travel guide to find which bars and clubs suit your taste.

The beaches of Mykonos Greece are considered some of the most beautiful in the Aegean region. There are beaches for all tastes, ranging from the most popular ones that are packed from morning to night to the more secluded and quieter beaches where one can relax and reflect. The partying continues on many of the beaches in Mykonos Greece, which are lined with lively beach bars and clubs. Activities such as windsurfing and jet skiing are also offer at the majority of Mykonos beaches.

Although sightseeing is a lesser known activity on Mykonos Greece, the island is definitely worth exploring. There are wonderful museums, windmills and churches in the capital of Mykonos Town, while the Monastery of Panagia Tourliani in Ano Mera and the Hellenistic Towers in Platis Gialos are also superb. Opposite Mykonos Greece is the island of Delos, an open-air museum with ancient temples and sanctuaries, sports facilities, houses, a theatre and a stoa. It is the main historical attraction for visitors while on vacation in Mykonos Greece.

If you are planning to come to Mykonos Greece for your holiday, you will certainly find accommodation that suits your needs and budget. There is a wide variety of Mykonos accommodations offered, from luxury hotels and resorts to rent rooms and apartments. Whether you are travelling alone, with a significant other, with friends or family, Mykonos Greece can totally satisfy your accommodation requirements. We suggest looking for the appropriate accommodation in a good online Mykonos Greece travel guide.