HOTELS IN MYKONOS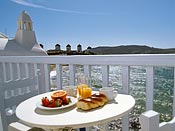 For many globetrotters around the world, Mykonos Greece is the ideal vacation destination. Located in the Aegean Sea, Mykonos is an island getaway for all types of visitors. Indeed, on Mykonos Island, you will see people from all walks of life mingling and having a wonderful time. It is certainly something marvelous to witness.

This diversity in vacationers means that the tourist infrastructure of the island is extremely well-developed offering a wide selection of entertainment venues and hotels in Mykonos. Whatever your needs and tastes, the hotels in Mykonos Greece are capable of satisfying them. The range of hotels in Mykonos is excellent, offering accommodation for all budgets. If you are an aficionado of lavish accommodations, there is a wide selection of luxury hotels in Mykonos that will cater to your every whim. On the other hand, if you are on a limited budget, you may want to look into the many wonderful budget hotels in Mykonos, some of which are also self-catering.

For those who want to stay in the popular resorts where there is endless excitement and fun, we recommend the Mykonos hotels that are located in Mykonos Town, Platis Gialos, Psarou, Agios Stefanos, Tourlos, and Panormos. Otherwise, there are wonderful hotels in Mykonos Greece that cater for visitors who prefer to stay in quieter areas, such as Agios Sostis, Glastros, Amigdalidi, Ornos, Agii Apostoli, and Agia Sofia.

The great thing about hotels in Mykonos Greece is that they are all located close to stunning Mykonos beaches, either almost right on the sand or within a short distance. Most luxury hotels in Mykonos, as well as some of the less lavish ones, offer a wonderful selection of hotel facilities, designed especially for visitors who prefer lounging in a beautiful resort. Some beach hotels in Mykonos have self-catering rooms and apartments that are equipped with everything you may need during your stay, and many visitors prefer this type of accommodation to the fully serviced kind.

Since Mykonos is a greatly diverse island, there are accommodation units that cater for all types of travelers. If you are vacationing with the family, there are an abundance of hotels in Mykonos that have spacious apartments, and studios for larger groups. For newlyweds, honeymoon accommodation is available in a large number of both budget and Mykonos luxury hotels. The island is also a Mecca for the gay community and there are a great number of Mykonos hotels that are gay friendly. Mykonos Greece is a superb holiday getaway either you are traveling alone, with friends, with family, or your significant other. So, make it your vacation destination this year and you will cherish the experience for the rest of your life.