VACATION MYKONOS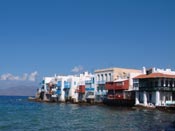 Are you ready for the most unforgettable vacation of your life? If so, come to the island of Mykonos Greece, where people from all walks of life mingle, creating a unique melting pot of celebrities, jet set and common travellers, all having a wonderful time.

Considered by many to be the most exciting holiday spot in Europe, a Mykonos vacation has become a must in most people's top destinations. While on your vacation in Mykonos Greece, you will have the opportunity to lie on the famous beaches of Paradise and Super Paradise, as well as other splendid Mykonos beaches that are packed with tanned bodies. If you're not into the popular beaches, you can easily find a peaceful spot on the quieter, more secluded beaches, where you can relax listening to the calm water lapping the soft sands. Details about the beaches can be found in good online Mykonos travel guides.

One of the main attractions of a Mykonos vacation is the endless partying and upbeat atmosphere. The island is celebrated throughout the world for its cosmopolitan night clubs and stylish bars where visitors can have fun till the wee hours of the morning. Through the narrow alleyways, fashionably-dressed people stroll, doing a bit of bar hopping and chatting with acquaintances. Men and women of all types and styles are out and about, making people-watching a great activity while on your Mykonos vacation.

The traditional Cycladic-style architecture is a dominant feature of the island. During your vacations in Mykonos Greece, we suggest exploring the various picturesque settlements, admiring the bright cubic houses and the stone-paved streets, and visiting the lovely island-style churches and windmills. The island also offers a selection of historical sites and monuments that are worth visiting. We recommend finding a reliable online Mykonos travel guide for more information on the sites and how to reach them.

Accommodation on Mykonos Island abounds and visitors will find the type of Mykonos hotel, room for rent, apartment or suite to perfectly suit their needs and budget. The most organized resorts are Mykonos Town, Ornos, Panormos, Platis Gialos, Psarou, Agios Stefanos, Tourlos, Glastros, Amigdalidi, Agia Sofia, Agii Apostoli, and Agios Sostis. So, get started on planning your vacation in Mykonos Greece today!