MYKONOS APARTMENTS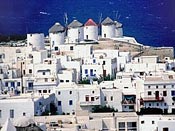 Mykonos Greece is a wonderful place to spend holidays with family or friends. It is an island that offers many wonderful activities, a plethora of marvellous beaches and entertainment venues for all tastes. Furthermore, its excellent tourist infrastructure caters for the needs of families, providing a wide range of facilities, such as elegant apartments, to make your holiday on Mykonos Island as comfortable and pleasant as possible.

If you are travelling with your family or your friends, the best type of accommodation is spacious apartments. You will find a good selection of Mykonos hotel apartments throughout the island that satisfy all budgets. Many Mykonos apartments are self-catering, meaning that they have their own fully-equipped kitchen and only basic services are offered. These apartments are great for groups that are on a tight budget because they tend to be inexpensive. If you are looking for high-end accommodation in roomy apartments, you can easily find apartments in Mykonos that offer all the comforts of a luxury hotel, including communal facilities and a wide range of services.

There are Mykonos apartments throughout the island, as they are the preferred type of accommodation for families. If you are travelling with people that want to get caught up in the amazing atmosphere of Mykonos nightlife, we recommend looking into hotel apartments in the popular settlements of Mykonos Town, Psarou, Platis Gialos, Agios Stefanos, Tourlos, Panormos. If you dream holiday is to relax and enjoy a peaceful environment while gazing at the Aegean, we suggest searching for apartments to rent in Mykonos in the settlements of Agios Sostis, Agia Sofia, Agii Apostoli, Glastros, Amigdalidi, and Ormos, all of which are either next to Mykonos beaches or a short distance from the waterfront.

While Mykonos apartments are generally with two separate rooms, there are some that are larger and can accommodate a family or group of more than four. Many apartments in Mykonos are available for two persons as well, and are a wonderful choice for those who prefer a little extra space. The great thing about apartments to rent in Mykonos is that they give you the feeling that you are living in an actual home, and not a rental, providing you with the necessary comfort during your stay in Mykonos.